Jeanettee M. Hassis Joins Herbein
JEANETTEE HASSIS JOINS HERBEIN + COMPANY AS A SENIOR MANAGER
Experienced advisor will serve a wide ranging client base in the firm's small business practice
READING, PA (March 10, 2021) – Herbein + Company, Inc. (Herbein), a leading Mid-Atlantic accounting and consulting firm, is pleased to announce that Jeanettee M. Hassis, CPA has joined the firm as a senior manager. In this role, Hassis will serve a wide range of the firm's small business clients.
"Jeanettee brings outstanding depth of knowledge and laser focus on exceptional client service to Herbein," said Herbein Managing Partner David W. Stonesifer, CPA. "Her years of experience and deep business acumen make her an ideal addition to our firm's small business practice."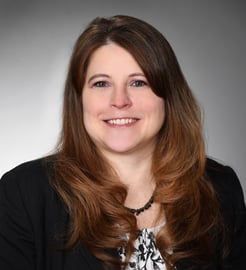 Hassis brings more than 25 years of experience in serving closely-held businesses, their owners, and high net-worth families and has extensive Federal, state and local tax experience with corporations, partnerships, individuals, non-profits, private foundations, estate and trusts, including multi-state and tiered structures. She has been instrumental in assisting clients at every stage of their business and personal life with timely tax, succession and estate planning and compliance services in industries that include real estate construction and development, manufacturing, wholesalers, and professional services.

"With Herbein's decades of providing services and solutions to small business, the firm is ideally suited to help our clients chart their path ahead through the recovery," Hassis said. "I'm excited to join a team that understands the importance of helping our clients navigate through this extraordinary time."
Prior to joining Herbein, Hassis held progressive roles as a tax manager and tax principal at a regional Mid Atlantic accounting and consulting firm, where she developed expertise in various aspects of Federal, state and local taxation for corporations, limited liability companies, partnerships, individuals, trusts, estates and tax-exempt organizations, including multi-state taxation, sales and use tax and employer taxes.
Hassis is dedicated to the accounting profession and her community. In addition to actively serving on the Pennsylvania Institute of Certified Public Accountants Relations with Colleges and Schools committee for over 20 years. She spent years providing internal training to other accounting professionals on tax law changes and year-end planning, as well as outside organizations and business groups throughout southeastern Pennsylvania. Hassis has also served in various leadership roles with professional networking, veterans' and religious organizations.
She earned a B.S. in accounting from Pennsylvania State University and is a certified public accountant in Pennsylvania.
About Herbein + Company, Inc.
Herbein + Company, Inc. (Herbein) is a leading Mid-Atlantic regional certified public accounting firm whose professionals specialize in creating impact for clients, helping them succeed with confidence today and tomorrow. With offices in Pennsylvania and New Jersey, Herbein is an independent member of Allinial Global, an accounting firm association of legally independent accounting and consulting firms with offices in North America and throughout the world. Visit www.herbein.com or connect with us on LinkedIn, Facebook and Twitter.