Herbein Earns Diamond Award for Service Excellence
Client Satisfaction is a two-way and transparent conversation. Herbein utilizes a Net Promoter platform which enables us to benchmark against the accounting industry as well as companies in other industries.
Herbein + Company, Inc. has won the Best of Accounting Diamond Award for providing superior service to their clients for at least five consecutive years - this is the sixth consecutive year that Herbein has earned this honor.
ClearlyRated's Best of Accounting® Award winners have proven to be industry leaders in service quality based entirely on ratings provided by their clients. Clients of Best of Accounting winners are 60% more likely to be satisfied than those who work with non-winning firms. Just 21% of the 2022 Best of Accounting winners earned the Diamond award distinction.
A score of 80% or higher is considered World-Class...
Herbein + Company received satisfaction scores of 9 or 10 out of 10 from 89.7% of its clients, significantly higher than the industry average of 53% in 2021, and a NetPromoter Score® of 86.7, more than 2.3 times the industry average of 38% in 2021.
Herbein l Mosteller HR Solutions, a Herbein subsidiary, received a Net Promoter Score® of 93.3% for the client satisfaction survey feedback that was collected by ClearlyRated on its behalf.
"For 50 years, exceptional client service has been a top Herbein priority. Our team is proud and honored to again be recognized for our efforts," Herbein Managing Partner David W. Stonesifer, CPA said.
Check out our results and over hundreds of client testimonials on the 2022 Best of Accounting page.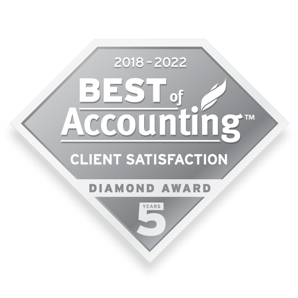 About the Net Promoter Metric
A Net Promoter Score is a simple satisfaction metric that is based on the single 11 point scale survey question "how likely are you to recommend XYZ Company to a friend or colleague?" Survey respondents are broken into 3 categories, depending on the score they give:
Promoters - respondents who answer a 9 or 10 to the recommend question represent a firm's strongest allies and are most likely to promote the firm to others.
Passives - respondents who answer a 7 or 8 to the recommend question are likely satisfied with the firm, but not out actively promoting it to others.
Detractors - respondents who answer with a 6 or lower are likely to be un-satisfied and may even be looking to switch to a new firm.
The Net Promoter Score is calculated by taking the % of promoters minus the % of detractors. The Net Promoter Score was developed by Bain consultant and author Frederick Reicheld. More information on Net Promoter Score can be found at www.netpromoter.com

.
About Best of Accounting™
ClearlyRated's Best of Accounting® Award recognizes accounting firms that have demonstrated exceptional service quality based exclusively on ratings provided by their clients and employees. The award program provides statistically valid and objective service quality benchmarks for the accounting industry, revealing which firms deliver the highest quality client and employee experience. Winners are featured on ClearlyRated.com—an online business directory that helps buyers of professional services find service leaders and vet prospective firms with the help of validated client ratings and testimonials.