Herbein + Company, Inc. (Herbein) wins 2020 Best of Accounting Award for client service excellence
Reading, PA (February 13, 2020) – Leading advisory and CPA firm Herbein + Company, Inc. (Herbein) announced today that it has won the ClearlyRated 2020 Best of Accounting Award for providing superior service to clients.
The award recognizes accounting firms for exceptional service quality based exclusively on client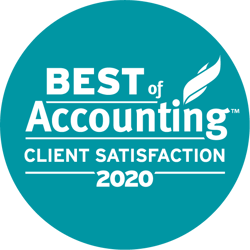 ratings. On average, clients of 2020 Best of Accounting winners are 1.9 x more likely to be satisfied than those who work with non-winning firms.
Herbein was noted for satisfaction scores of 9 or 10 out of 10 from 87.2% of firm clients, which is significantly higher than the industry average of 45% in 2019.
"Our firm creates impact for our people, our clients, and our communities – and we are proud to be recognized by our dedication to client success," Herbein + Company, Inc. Managing Partner David W. Stonesifer, CPA, said. "We're committed to exceptional quality standards and making the future happen for our valued clients – and believe this award reflects their trust in our ability to deliver."
"Now more than ever, providing a consistently remarkable client experience is critical for accounting firms," said ClearlyRated CEO Eric Gregg. "All accounting firms attempt to deliver great service - Best of Accounting winners have proven it."
For information on Herbein, visit herbein.com.
About Herbein + Company, Inc.
Herbein + Company, Inc. is a leading regional certified public accounting firm whose professionals specialize in creating impact for clients, helping them build a brighter tomorrow. With offices in Pennsylvania and New Jersey, Herbein is an independent member of Allinial Global, an accounting firm association of legally independent accounting and consulting firms with offices in North America and throughout the world. Visit www.herbein.com or connect with us on LinkedIn, Facebook and Twitter.