Herbein Subsidiary Financial Outsourcing Solutions admits Jeff Johns Jr. as partner
Herbein + Company, Inc. (Herbein) SUBSIDIARY FINANCIAL OUTSOURCING SOLUTIONS (FOS) admits Jeff Johns Jr., CISA, CRISC as partner
Reading, PA (March 31, 2020) – Leading advisory and CPA firm Herbein + Company, Inc. (Herbein) is pleased to announce that Jeff Johns Jr., CISA, CRISC has been admitted to the Financial Outsourcing Solutions (FOS) partnership, effective March 31, 2020.
A Herbein division, FOS is a leading provider of risk management services including internal audit, information technology consulting, and compliance services to financial institutions located in Pennsylvania, New Jersey, Maryland, Delaware, and New York.
"We are excited to welcome Jeff to the FOS partnership. His deep information technology audit experience and effective relationship building skills will further strengthen the dynamic FOS team," Herbein Managing Partner David W. Stonesifer, CPA said. "He is a proven leader who enhances the quality of service we offer to our clients – and his knowledge and drive provide them with a competitive advantage. Equally important, Jeff exemplifies the best of Herbein and FOS as a dedicated professional and respected mentor."
As FOS' Partner overseeing Information Technology risk management services, Johns manages client engagements that include information technology audits, information security audits, cybersecurity analysis, vulnerability management, social engineering testing, social media reviews, information security awareness training, disaster recovery management, and vendor management services to our clients.  He also provides expertise in data mining for audit teams and clients. 
"Jeff consistently excels in terms of exceptional client service, his contributions to FOS' growth, and his expert knowledge," FOS Partner Debbi S. Fetter, CFIRS, CISA, CFSA, CRMA, CRCM said. "We look forward to his ongoing leadership in our industry and expect that Jeff will continue to be a role model for our team in demonstrating the highest level of dedication and integrity."
Johns' information technology and cybersecurity knowledge has led to numerous speaking engagements at regional and national conferences. Prior to joining FOS, he worked at a public accounting firm performing year-end audits, Sarbanes-Oxley compliance, and IT control assessments for private and publicly owned clients. 
"I am excited to enter this next phase of my career," Johns said. "I look forward to continuing to take on new, challenging engagements, working with my talented colleagues to create impact by helping our clients navigate their increasingly complex information technology needs."
For information on Herbein and Financial Outsourcing Solutions, visit www.herbein.com and www.fosaudit.com.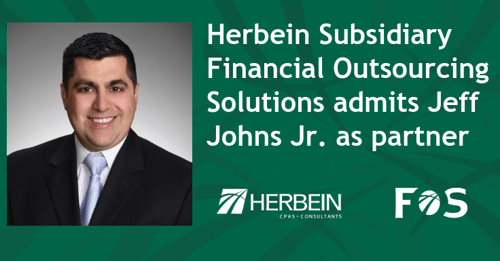 About Herbein + Company, Inc.
Herbein + Company, Inc. (Herbein) is a leading regional certified public accounting firm whose professionals specialize in creating impact for clients, helping them build a brighter tomorrow. With offices in Pennsylvania and New Jersey, Herbein is an independent member of Allinial Global, an accounting firm association of legally independent accounting and consulting firms with offices in North America and throughout the world. Visit www.herbein.com or connect with us on LinkedIn, Facebook and Twitter.