WEBINAR: Year End Tax Planning for Businesses
WEBINAR: Year End Tax Planning for Businesses
What to keep in mind as your business prepares to file its 2021 taxes
Date: November 30, 2021
Time: 2:00p.m. - 3:00p.m. ET
Online Webinar
Presenters: David Peritz, Elizabeth Hassler
Host: Stacy Weller
Building Success Webinar Series: A webinar series dedicated to building on the success of our team, clients and communities
-------------------------------
General Year End Tax Planning for Businesses
What to keep in mind as your business prepares to file its 2021 taxes.
With potential tax law changes ahead, a year-end review is more important than ever for business owners. Extensive COVID-19 relief programs present an additional challenge.
As 2021 comes to a close, our tax professionals are ready to guide you through year-end tax planning strategies. Now is the time to act to potentially minimize your business' tax burden. Register today.
Join Herbein on Tuesday, Nov. 30 at 2:00p.m. for a webinar on the key things to keep in mind as you prepare to file your business' 2021 taxes. Attendees can expect to learn more about:
COVID-19 economic relief programs: Updates on PPP, EIDL, ERC
ERC: Update on Q4 status
Loan forgiveness
YE business planning: Cash method vs. accrual
Accelerated payments
Retirement plans
Cost segregation / R&D studies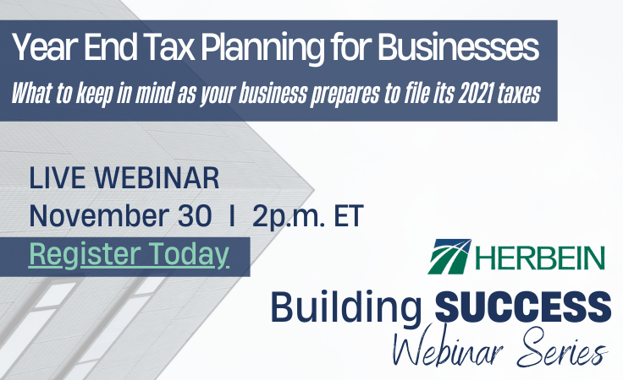 -------------------------------
CPE Information
Group Internet Based, Zoom
Prerequisites: None
Program Level: Basic
Advance Prep: No
Registration: herbein.com
Complimentary webinar
Any complaints should be directed to the CPE Team at cpe@herbein.com or 610.375.1175.