Webinar RECAP: Why Some People are Resilient, and Others are Not
Webinar RECAP: Why Some People are Resilient, and Others are Not
Why Some People are Resilient, and Others are Not
Herbein Webinar featuring Andrew Shatté, PhD
THURSDAY, JUNE 4, 2020 I 1 p.m. – 2 p.m. ET

Materials
--------------------------------------------------------------
Why Some People are Resilient, and Others are Not
The COVID-19 pandemic ushered in an era of unprecedented uncertainty. Organizations are transforming at the speed of light and we are all experiencing a sudden new reality.
For business leaders and employees alike, resilience has never been as important. Resilience represents the ability to rebound productively in challenging situations, and it has a strong protective effect against anxiety. In today's anxiety-ridden environment, those who possess adaptive capabilities will be better equipped to handle the psychological toll.
In this fast-paced, interactive, and fun session, world-renowned resilience expert Andrew Shatté, PhD will lead attendees on a tour of the big questions in the psychology of resilience. A research professor at the University of Arizona and a Brookings Institution fellow, Dr. Shatté frequently trains high-level executives from the U.S. Department of Defense, Department of Homeland Security, the IRS, NASA, the CIA, and all branches of the U.S. military in resilience skills. A highly acclaimed teacher and TED presenter, Dr. Shatté has delivered keynotes at more than 1,000 conferences and conventions.
In "Why Some People Are Resilient, and Others Are Not" Dr. Shatté will look at why one person overcomes adversity while another falls into helplessness – and the 7 ingredients that make up resilience. Attendees will learn about the habits have an enormous impact on resilience, gain insight into two key thinking styles and discover how they can affect success, happiness, and health. Dr. Shatté will show attendees how to boost the vital life skill with case studies from his work in large corporations and the public sector. And in the final moments of the workshop, he'll even reveal the biggest secret to a life of resilience!
Attendees will learn proven techniques that:
Help create positive thinking styles
Help to rebound from personal and professional setbacks
Help to better manage stress and lead a more fulfilled life
PRESENTERS
Andrew Shatté, PhD - University of Arizona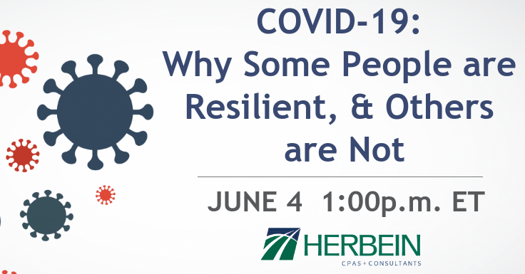 -------------------------------------
Coronavirus Resource Center: Have more questions about the impact of COVID-19 on your business? Visit Herbein's Resource Center for up-to-date information.