WEBINAR: The Build Back Better Act: Individuals and Estates/Trusts
WEBINAR: The Build Back Better Act: What it means for individuals and estates/trusts
Date: November 16, 2021
Time: 2:00p.m. - 3:00p.m. ET
Online Webinar
Presenters: David Peritz, Stacy Weller
Host: Elizabeth Hassler
Building Success Webinar Series: A webinar series dedicated to building on the success of our team, clients and communities
The Build Back Better Act: What it means for individuals and estates/trusts
The Build Back Better (BBB) Act is one of two huge pieces of legislation that form the centerpiece of President Joe Biden's domestic agenda. While the other bill is focused on infrastructure, BBB focuses on a long list of social policies and programs. Tax law changes proposed in the Act would affect individual taxpayers' income tax and estate and gift tax obligations, as well as their retirement plans. The impact of the proposed changes on common estate plan strategies make it worth taking notice now.
Join Herbein on Tuesday, Nov. 16 at 2:00p.m. for a webinar on the key individual and estates/trusts provisions included in the Act. Webinar attendees can expect to learn about the Act's impact on:
Income taxes
Estate/gift and GST tax exemption Amounts
Limitation on use of irrevocable grantor trusts
Valuation rules for nonbusiness assets
Changes to individual retirement accounts
Increasing the top marginal individual rate to 39.6%
Imposing a new 3% surtax on certain income levels for individuals and estates/trusts
Increasing the capital gains rate to 25% effective on the date of introduction
Expanding net investment income tax to trade or business income of high-income individuals
Imposing limits on individual retirement plans of high-income taxpayers with large account balances
CPE: 1 Hour of CPE offered for CPAs licensed to practice in PA and NJ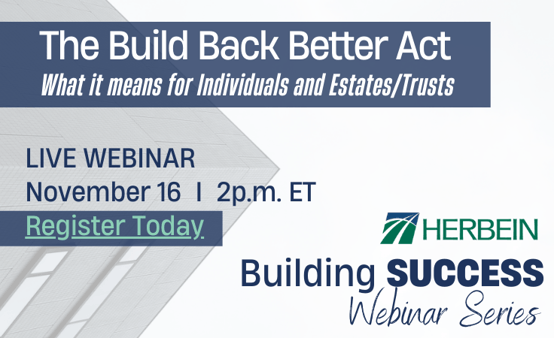 ------------------------------------
CPE Information
Group Internet Based, Zoom
Prerequisites: None
Program Level: Basic
Advance Prep: No
Registration: herbein.com
Complimentary webinar
Any complaints should be directed to the CPE Team at cpe@herbein.com or 610.375.1175.