Best practices for businesses with floating rate notes, business loans, consumer loans, mortgages, securitizations, and derivatives
Live Webinar: November 5, 2020
Herbein webinar with JP Morgan CHASE
9:00am
Register Here
Any business with a bank loan has been impacted by the London Interbank Offered Rate (LIBOR) - whether they know it or not. Join Herbein + Company, Inc., and JP Morgan CHASE for a joint webinar on November 5, 2020.
Banks have used LIBOR to calculate interest rates globally, but the secular decline in interbank short-term funding has undermined this major benchmark interest rate. As a result, LIBOR is set to be phased out in the U.S. by the end of 2021 and replaced by the Secured Overnight Financing Rate (SOFR) which is linked to the cost of borrowing cash overnight and secured by U.S. Treasury securities. As SOFR is based on actual transactions, it is a robust and credible benchmark; however, there are many nuances in SOFR to consider. Any business with a LIBOR-based line of credit, mortgage, or interest rate protection agreement set to mature after 2021 may experience a bottom line impact. Additionally, corporate and municipal bonds will be affected by the LIBOR transition to SOFR.
This presentation will help financial professionals understand the impact of the changes and ensure that organizations will be prepared for the transition.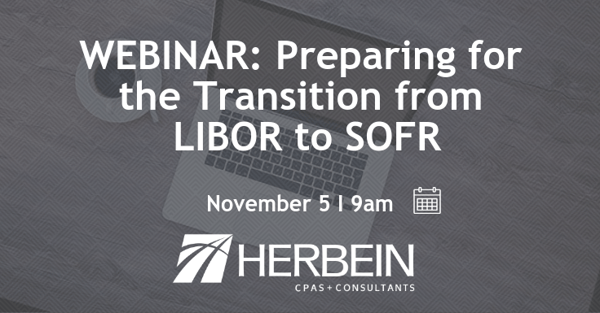 Meet our speaker: David S. Watson
David S. Watson: Managing Director - Wholesales Lending Services, JPMorgan Chase & Co. David has been with JPMorgan Chase for 27 years in a variety of line, risk and project-related positions. In his current role, he is responsible for various initiatives including the Libor Transition Program in Commercial Banking. Prior roles have been in the Regulatory Operations, Business Transformation and Community Development Banking Groups, where he served as Chief Risk Officer with responsibility for all risk functions related to Real Estate and Intermediaries Lending as well as New Markets Tax Credits. He is a member of the Employee Plans Investment Committee (EPIC), which oversees the firm's 401(k) Savings Plan and is a charter member of the firm's Ambassador Program. Previously, David held various commercial/industrial and real estate lending and risk positions at regional banks in New England.