Webinar RECAP: COVID-19 Estate Planning Opportunities
Webinar RECAP: COVID-19 Estate Planning Opportunities
COVID-19 Estate Planning Opportunities
Herbein Webinar featuring Barley Snyder
THURSDAY, MAY 28, 2020 I 1 p.m. – 2 p.m. ET

Materials
--------------------------------------------------------------
COVID-19 Estate Planning Opportunities
Estate planning can be complex even when there is ample time to prepare, let alone during a fast-moving pandemic that has roiled financial markets and the global economy.
As the pandemic casts a shadow of uncertainty over most aspects of daily life, there is a surge in demand for wills, life insurance policies and much more as people move to secure their futures for their loved ones.
Attendees will learn about important estate planning considerations for the weeks and months ahead. Join Herbein and Barley Snyder for a deep dive into estate planning strategies in a COVID-19 world.
COVID-19 Estate Planning Opportunities will cover:
Planning ideas to give peace of mind that your loved ones will be taken care of now and in the future
Gifting strategies / estate planning trends during COVID-19
Other estate planning opportunities
PRESENTERS
Stacy A. Weller, CPA – Senior Manager, Herbein + Company, Inc.
Sarah Rubright McCahon – Of Counsel, Barley Snyder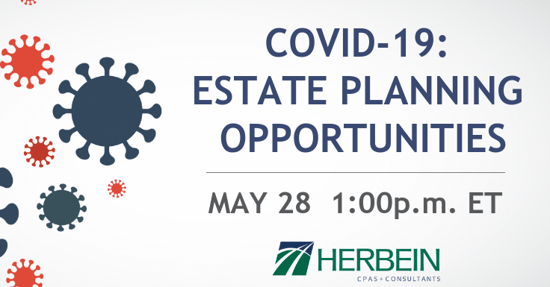 -------------------------------------
Coronavirus Resource Center: Have more questions about the impact of COVID-19 on your business? Visit Herbein's Resource Center for up-to-date information.