WEBINAR: Accounting for Leases Under GASB Statement No. 87
WEBINAR: Accounting for Leases Under GASB Statement No. 87
Date: February 23, 2022
Time: 2 – 3 p.m.
Live Webinar
Building Success Webinar Series: A webinar series dedicated to building on the success of our team, clients and communities.
Local governments reporting under generally accepted accounting principles are about to adopt the Government Accounting Standards Board Statement No. 87 related to lease accounting for fiscal years ending June 30, 2022 and thereafter.
Join Herbein for a live webinar on Wednesday, Feb. 23 for guidance on the implementation of the new standard and implementation best practices.
The webinar will walk-through the aspects of the new standard, and provide insight as to how the standard could affect your upcoming year end reporting. We will review the impact on the government-wide and proprietary fund statements of net position as well as the required disclosures, along with providing available implementation tools to ease the burden on your organization.
Click here to register today.
After attending the webinar, attendees will:
Gain an understanding of the potential impacts related to the new standard
Be able to prepare for evaluating current leases in place
Understand the tools available to assist in implementation
Speakers
Christopher Turtell – Herbein
Megan Thompson – Herbein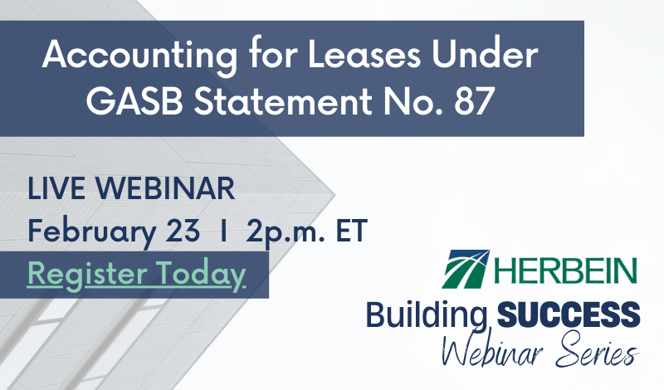 -------------------------------
CPE Information
Group Internet Based, Zoom
Prerequisites: None
Program Level: Basic
Advance Prep: No
Registration: herbein.com
Complimentary webinar
Any complaints should be directed to the CPE Team at cpe@herbein.com or 610.375.1175.