5 Tips to Get the Most Out of Your Statement
With new standards that have been implemented in recent years, school district financial statements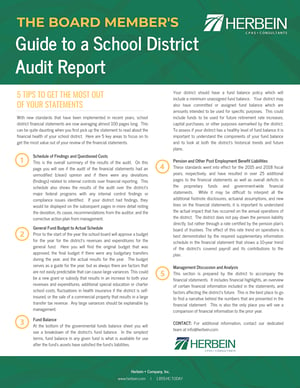 are now averaging almost 100 pages long. This can be quite daunting when you first pick up the statement to read about the financial health of your school district. Here are 5 key areas to focus on to get the most value out of your review of the financial statements.
Schedule of Findings and Questioned Costs
General Fund Budget to Actual Schedule
Fund Balance
Pension and Other Post Employment Benefit Liabilities
Management Discussion and Analysis
Click here to download the complete handout on The Board Member's Guide to a School District Audit Report.
For additional information contact us at info@herbein.com. Handout prepared by Nicholas Bieber.