How the USDA is Helping the Dairy Industry During COVID-19
How the USDA is Helping the Dairy Industry During COVID-19
American farmers and ranchers saw market demand disappear during the initial shockwave of the pandemic – and while concerns over food supplies have lessened, the economic hardships are still taking their toll on farm families across the country.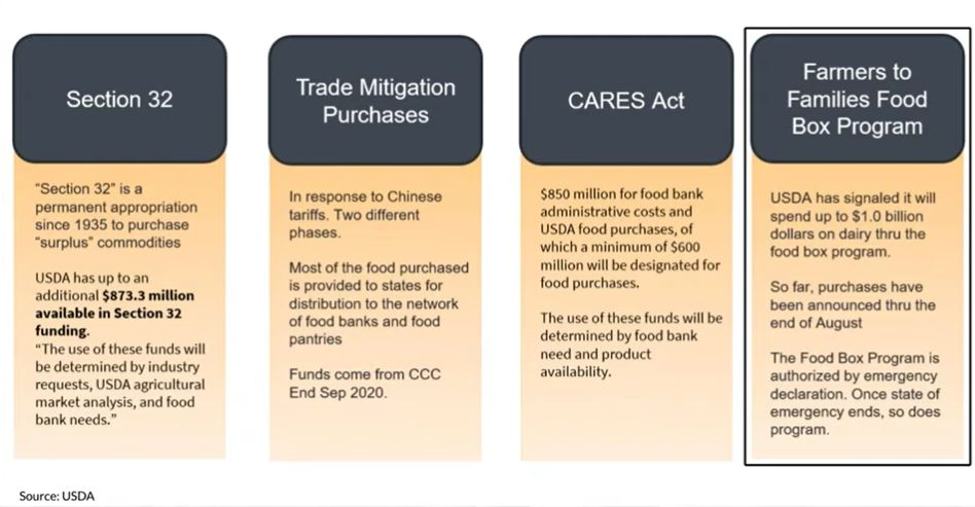 Like all agricultural sectors, the dairy industry was adversely affected by falling prices, lost markets and other supply chain disruptions tied to the global pandemic.
An overview of how the USDA is helping the nation's dairy industry during this recovery period:
Section 32
In May 2020, the federal government approved $470 million in food purchases – which included $120 million in dairy product purchases to give to American families and food banks in need. Section 32 of the Agriculture Act of 1935 allows the Agricultural Marketing Service (a USDA agency) to make these purchases. The purpose: to support American producers while also providing food to families in need. The pandemic created an increase in food inventory stemming from the decrease in demand for food purchased by restaurants and schools, along with an increase in demand from food banks, food pantries, and organizations that regularly support the nation's communities.
Trade Mitigation Purchases
Launched in 2018, the Trade Mitigation Purchases program is designed to protect American farmers from damage caused by unjustified trade retaliation from foreign nations. The USDA purchased a variety of meats, fruits, vegetables, specialty crops, and dairy products. Most of the food purchased was given to the states to distribute to various food assistance programs.
CARES Act
The purpose of the CARES Act was to provide prompt economic assistance for American families and small businesses. Provisions of the Act offer ways for rural businesses and agricultural producers to receive loan guarantees to deal with that impact. Key components of the CARES Act like the Paycheck Protection Program (PPP) and the Economic Injury Disaster which allows qualifying small business capital to continue paying for employees, rent, and utilities to keep businesses afloat and more Americans employed.
Farmers to Families Food Box Program
The stated purpose of this USDA program is "partnering with farmers, ranchers, specialty crop producers, food processors and distributors, and non-profit organizations to ensure that all Americans have access to the fresh and wholesome food they need during the COVID-19 national emergency."
The Farmers to Families Food Box program supports the dairy industry by facilitating the delivery of fresh dairy products to those in need. COVID-19 disrupted the normal distribution of these products and the rise in unemployment made many families in need of assistance. With $4 billion spent on the program to date, Farmers to Families Food Box includes dairy products, fresh fruits and vegetables, and meat products. The USDA pays the vendors for the products and the boxes are distributed by nonprofit and faith-based organizations.
The first round of food boxes was distributed May 15 – June 15. 35.7 million food boxes were delivered in this round according to USDA.
The second round of the Farmers to Families Food Box program began July 1 and ended September 18. This round purchased food by extending contracts with first round vendors. The second round also added new contracts to reach underserved areas.
The third round was announced in July and funded food boxes through October 31. This round added an additional $1 billion in federal funding.
The fourth round began November 1 and funds $500 million of food box deliveries through the end of 2020.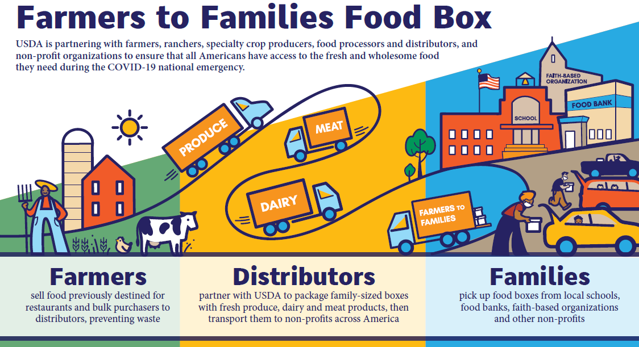 Source USDA
Coronavirus Food Assistance Program (CFAP)
The USDA has also authorized another program to help qualified dairy producers.
There are two rounds of the Coronavirus Food Assistance Program (CFAP) that send payments directly to dairy farmers.
The first CFAP round was announced in May 2020. Payments were determined by multiplying the amount of milk produced on each farm during the first quarter by $6.18 per hundred pounds of milk. This is equivalent to about $0.53 per gallon.
In the second round of CFAP, eligible farmers can receive $1.20 per hundredweight. Payments are based on actual milk production April 1 to August 31, 2020 and estimated milk production September 1 to December 31, 2020. In order to be eligible, producers must be farming at the time of application. Applications are accepted until December 11, 2020.
Both rounds of CFAP have payment limitations per farm. Many other farm commodities are covered in addition to dairy. These include various crops, eggs, wool, nursery crops and cut flowers, and aquaculture.
The CFAP programs are administered by the Farm Service Agency staff at local USDA Service centers. CFAP participation in Pennsylvania is somewhat lower than the national level because some religious faiths discourage accepting government payments.
With almost 50 years of deep agricultural industry expertise, Herbein professionals are committed to keeping our clients up to date on the latest developments and business issues. Talk to your Herbein advisor today.
For additional information contact us at info@herbein.com. Alexandra Albright, CPA, Dairy Consultant