Herbein + Company, Inc. Founder Carl Herbein Has Passed Away
Carl D Herbein, CPA
Nov. 20, 1946 – September 16, 2018
Michael J. Rowley, CPA/ABV, CVA, CFF, Chief Operating Officer of Herbein + Company, Inc. has issued the following statement:
It is with heartfelt sadness that we announce the passing of Carl Herbein, CPA who founded Herbein + Company, Inc. in 1972. From humble origins at the Herbein family kitchen table, Carl was the driving force behind a firm that now has nine locations and over 200 employees. His dedication and influence reach far beyond the firm. Carl was a huge proponent of Berks County and devoted his energy and resources towards strengthening the community. As a business leader, Carl left a great legacy. As a friend and mentor, his loss is particularly profound. Our firm is committed to continuing Carl's legacy, and we will share his joy for life and continue his search for the next adventure.
As founding partner of Herbein + Company, Inc., Carl also served as the firm's President, CEO, and Partner in Charge of the firm's dairy practice until his passing. Carl was well known throughout the Berks Community. His expertise in dairy accounting was recognized nationwide. He visited and provided services to more than 150 dairy processing facilities of all types and sizes.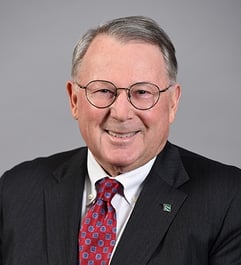 Carl was a former president of the Pennsylvania Institute of Certified Public Accountants. Carl's strong devotion to the community was recognized through many accomplishments and awards including
2006 Eugene L. Shirk Community Builder Award
2010 Corporate Honoree - March of Dimes
2012 Franciscan Award - Alvernia University
2013 Business Weekly Unity Award
2017 Service to the College Award - Elizabethtown College
2018 Thun Award - Berks Community Foundation
Carl was an avid sportsman who enjoyed racquet sports, cycling, and running. He was renowned for his devotion to his family and enjoyed spending time with his family at their retreat in Avalon, NJ.
###
For additional information, please contact Jack Kolmansberger at jmkolmansberger@herbein.com, or visit www.herbein.com.