On December 27, 2020, President Trump signed the Consolidated Appropriations Act, 2021 – which included a $900 billion COVID-19 relief package.
1.4% of the total spending - $13 billion – in the relief package was allocated to the nation's agriculture sector. The majority (roughly $11.2 billion) of the funds were assigned to the Office of Agriculture Secretary.
The rest of the funds were split among the following:
Supplemental Dairy Margin Coverage program
Dairy Donation program
Commerce Dept. Fishery Assistance
Agricultural Research
Local Agriculture Market
Farming Opportunities Training and Outreach
Gus Schumacher Nutrition Incentive program
Interstate Shipment Grants
Farm Stress programs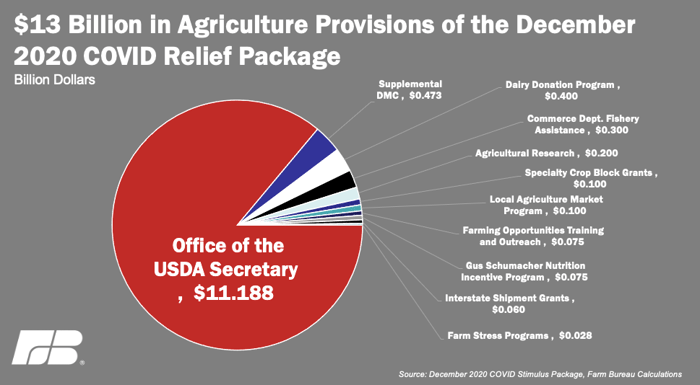 What does this relief package mean for the dairy industry? Here are a few key points.
Congress has included $1.5 billion for government food purchases, $400 million for food donation programs, and $3 billion for direct payments to dairy farms and livestock operations.
There are two different donation type programs within the relief bill. The first allows the Ag Secretary to purchase food for nonprofit organizations to distribute to those in need. As a result, the Farmers to Families Food Box program will continue for a fifth round. The USDA has already distributed more than 132 million food boxes in total. Another way the money would be used is to provide grants and loans to small and midsized producers/distributors to respond to COVID-19 and protect their workers. The second program allows milk processors to be paid the full value of milk used to produce dairy products donated to food assistance programs. Additionally, this dairy donation program allows processors to be eligible for financial payments retroactively for dairy products previously donated in 2020.
Additionally, $870 million of this package was allocated to the Dairy Margin Coverage program. The Dairy Margin Coverage program is a risk management program that offers protection to dairy processors when the difference between the milk price and average feed price falls below a certain threshold. For 2020, only approximately 51% of U.S. dairy producers were covered under this program compared to 84% the prior year. This program paid out roughly $200 million in 2020 to operations enrolled in the program. The average amount per operation was about $14,000. For 2021, 68.2% of dairy farmers have enrolled in the Dairy Margin Coverage program.
The announcement of Round Five of the Farmers to Families Food Box Program caused an increase in Class III (milk used in cheesemaking) and Class IV (milk used in dry products and butter) futures prices at the Chicago Mercantile Exchange (CME). The USDA spending of $1.5 billion on dairy products changes the balance of supply and demand. These large purchases will increase the prices received by dairy farmers for milk sold. Consumers will also see higher prices for dairy product purchases.
The Food Box Program contracts will be awarded to over 240 organizations that have participated in the first four rounds. Food Box deliveries are expected to begin at the end of January 2020 and continue through April. Food Box contracts will not be awarded to companies that have not participated in the earlier programs.
For additional information contact the author at info@herbein.com.
Article compiled by Alexandra Albright.