Change to Medicare & Medicaid office visit and evaluation codes for 2021 calendar year
The latest example of COVID-19's expansive impact: The Centers for Medicare & Medicaid Services (CMS) announced in the calendar-year 2020 Medicare Physician Fee Schedule (PFS) file rule that it will implement changes to office visit Evaluation and Management codes for the 2021 calendar year.
For medical practices, it means getting ready now to implement the revised evaluation and management (E/M) documentation and coding guidelines effective January 1, 2021.
The Centers for Medicare & Medicaid Services (CMS) reimburses physicians for care furnished to Medicare Part B beneficiaries based on the Medicare Physician Fee Schedule (PFS), which lists the payment rates for more than 12,600 unique covered services. The PFS contains the resource costs associated with the physician work, practice expense and malpractice insurance for the current procedural terminology (CPT) and Healthcare Common procedure Coding System (HCPCS) codes that represent office visits, surgical procedures, anesthesia services, diagnostic tests, and a range of other therapies. The rule also addresses Medicare billing requirements, quality standards, program integrity, and other issues impacting physician practices.
Points to note:
CMS updates the PFS annually, and publishes a Proposed Rule to allow for public comment before finalizing its policies. A large portion of surgeons' performance and reimbursement is measured and paid for under the PFS final rule, which updates payment policies, payment rates, and quality provisions for services furnished under the PFS.
CMS is required to keep the PFS budget neutral, which means that increasing the wRVU values for these nine codes would require CMS to decrease wRVU values for other CPT codes, reduce the conversion factor, or some combination of both. The expected 2021 PFS changes include documentation and code selection updates as well as updates to work RVU (wRVU) values. This alert will focus on the wRVU value updates that affect code ranges 99201 to 99205 (new patient visit codes) and 99211 to 99215 (established patient visit codes).
CMS hasn't yet indicated what method it would implement to manage budget neutrality. However, this information is expected in the 2021 PFS proposed rule, due in mid-July 2020.
The PFS change:
CMS plans to remove code 99201 from the new patient visit code range and increase the wRVU values for the remaining new patient and established patient visit codes as outlined in the tables below:
The average increase in wRVU values is 8 percent, or 0.17 wRVUs, for new patient codes and 28 percent, or 0.33 wRVUs, for established patient visit codes.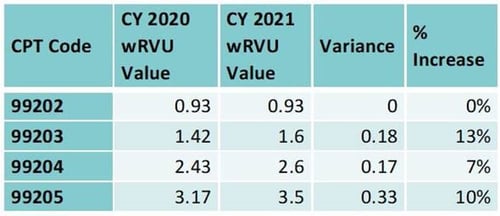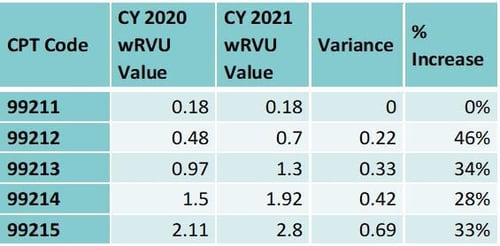 What does it mean?
The impact of the change on independent groups is still unclear but can be predicted based on a group's relative use of CPT codes. As physicians and clinics are heavy users of the above codes, they will likely be favorably affected by the above changes, even if the budget-neutral offsets aren't yet known.
For hospital-owned physician practices, the picture is more complex. The PFS is a key point of reimbursement and reference thereto by certain commercial payors. That means PFS changes impact overall levels of reimbursement, and the mix of provider specialties within the group determines the relative favorability of the pending change. However, the PFS' underlying wRVU values are often also used in compensation plans. An increase in wRVU values for these codes also will have an increase in compensation for certain physicians. Since compensation amounts per wRVU often exceed the conversion factor (approximately $36), an increase in wRVU values may have the effect of increasing provider subsidies.
In conclusion: the overall financial effect will most likely depend on both the calendar-year 2021 PFS and each impacted organization's compensation structure.
For additional information contact us at info@herbein.com.
Article contributed by David Peritz.