ASC 606 Implementation is Here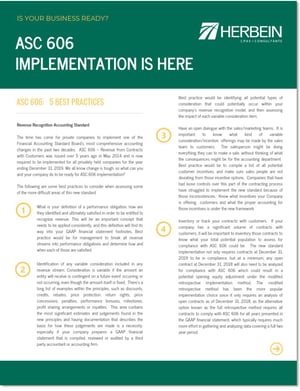 The time has come for private companies to implement one of the Financial Accounting Standard Board's most comprehensive accounting changes in the past two decades. ASC 606 – Revenue from Contracts with Customers was issued over 5 years ago in May 2014 and is now required to be implemented for all privately held companies for the year ending December 31, 2019.
We all know change is tough, so what can you and your Company do to be ready for ASC 606 implementation?
Our team put together a whitepaper including five best practices to consider when assessing some of the more difficult areas of this new standard.
Click here to download ASC 606 Implementation is here: 5 Best Practices.
For additional information, contact our team at info@herbein.com.
Whitepaper contributed by Christopher Kunkle.