Herbein Earns Inavero's 2017 BEST OF ACCOUNTING™ Award for Client Service Excellence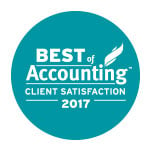 Herbein Earns Inavero's 2017 BEST OF ACCOUNTING™ Award for Client Service Excellence

Clients of winning firms are more than four times more likely to be satisfied than the industry's average accounting firm client.
Reading, PA: July 20, 2017: Herbein + Company, Inc., a leading accounting firm announced today they have won Inavero's Best of Accounting™ Award for providing superior service to their clients. The Best of Accounting Award winners have proven to be industry leaders in service quality based completely on the ratings given to them by their clients. On average, clients of the 2017 winners are more than 4x more likely to be satisfied than the industry's average accounting firm client.
When asked if they are likely to recommend Herbein + Company, Inc., over 88% of those surveyed said they would, as compared to the industry average of 43%.
"The 2017 Best of Accounting award recipients have gone to great lengths to demonstrate their commitment to service quality," says Inavero Founder and CEO, Eric Gregg. "Winning firms not only invest time and resources toward surveying clients, they commit to providing validated feedback to the public on BestofAccounting.com – making the satisfaction of their clients a central strategy for growing their business."
Herbein's COO Michael J. Rowley, CPA/ABV, CVA, CFF states, "It is an honor to serve our clients, and we value each relationship. To receive such high marks and personal comments on how much our work is appreciated is both rewarding and humbling. Our team is fortunate to work with such great clients."
About Best of Accounting™
Best of Accounting recognizes accounting firms that have demonstrated exceptional service quality based exclusively on ratings provided by their clients. The award program provides statistically valid and objective service quality benchmarks for the accounting industry, revealing which firms deliver the highest quality of service to their clients. BestofAccounting.com is the directory of choice for sourcing leading accounting firms with validated satisfaction scores in the US and Canada.
###
For additional information contact Jack Kolmansberger at jmkolmansberger@herbein.com or 610-378-1175.