Elizabeth F. Hassler Promoted to Partner at Herbein
With a solid history of helping clients achieve their goals, Herbein + Company, Inc. now ranks among the top 125 largest firms in the country. Michael J. Rowley, CPA/ABV, CVA, CFF says, "As our firm grows, we must evolve in order to maintain our high level of service to our clients. As we grow, new opportunities are created for all team members." Herbein + Company Inc. is proud to announce Elizabeth F. Hassler, CPA has been promoted to Partner in the Tax Department.
As a leader of the Reading Tax Department, Liz's 18+ years in public accounting provides her with the knowledge and practical experience to excel in all aspects of her practice. At Herbein, she works with federal and multistate tax return compliance, and tax planning for clients in a variety of industries including manufacturing, distribution, and technology. Her areas of expertise include closely-held corporations, S corporations, partnerships, and high net worth individuals.
Liz works to help Herbein plan proactively and focus on being forward-thinking consultants to our clients. She is heavily involved in working to streamline corporate tax technology at the firm and is constantly looking to improve and be on the cutting edge of technology industry-wide for both our firm and clients. Internally, Liz works closely to develop and maintain a strong internship program and is a significant voice in all aspects of our tax internship program. She is a strong advocate on the importance of showing the younger generations of future accountants what a career could be like in accounting, and she believes that having a strong mentor is important to growth.
Liz is extremely active in the Pennsylvania Institute of Certified Public Accountants (PICPA), both statewide on the PICPA State Taxation Committee, and locally as a PICPA Reading Tax Conference Committee Member. The State Taxation Committee provides state lawmakers, regulators, and the public with strategic leadership and technical expertise on issues that affect the socioeconomic and business environment of Pennsylvania.
"Liz joined us in 2015 as an already-rising star, and within three short years she has embraced the role of a leader who inspires fellow team members and leads by example. She brings great enthusiasm and is well-known for her ability to bring people together on projects. Clients consider her friendly and well-versed in many aspects of tax, and she is often cited for her prompt and helpful replies. Liz's promotion to partner strengthens our firm now and into the foreseeable future." - Michael J. Rowley, CPA/ABV, CVA, CFF – Partner, COO, Herbein + Company, Inc.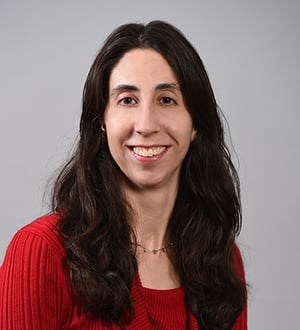 Liz graduated from Kutztown University with a B.S. Degree in Business Administration, Accounting. She also graduated from Leadership Berks, a community program designed to identify emerging and current leaders in the Greater Reading area. Currently she is a board member and the treasurer of Big Brothers Big Sisters of Berks County, whose mission is to provide children facing adversity with strong and enduring, professionally supported 1-to-1 relationships that change their lives for the better.
In her free time, she enjoys spending time with her husband, Eric, and their two children, Samantha and Bradley. She enjoys keeping up with her children's activities, traveling, reading and playing sports.