2014-2015 Seminar Series Dates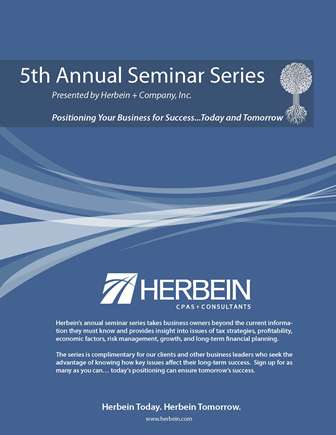 Positioning Your Business for Success...Today and Tomorrow
Herbein 2014-2015 Client Seminar Series
Herbein's annual seminar series takes business owners beyond the current information they must know and provides insight into issues of tax strategies, profitability, economic factors, risk management, growth, and long-term financial planning. The series is complimentary for our clients and other business leaders who seek the advantage of knowing how key issues affect their long-term success. Sign up for as many as you can… today's positioning can ensure tomorrow's success.
Download the 2014 Seminar Series Brochure today, or click on one of the direct links below to sign up.
November 18, 2014 - Tax Strategies that Business Owners Can Implement Before Year End
January 22, 2015 - Profitability Rules! Start the Year off Right and Build Real Value in Your Business
February 26, 2015 - Economy's Impact on Your Business
April 28, 2015 - Risk Management
May 14, 2015 - Financing the Growth of Your Business
June 16, 2015 - Long-Term Planning for Your Financial Future
Seating may be limited and will be accommodated on a first-come basis. Please feel free to include a friend or colleague in your RSVP. Confirmation will be emailed to you after we receive your registration through Eventbrite. For any additional questions regarding our seminar series - please feel free to contact Amy Klatt or Jack Kolmansberger at 610.378.1175, www.herbein.com, or rsvp@herbein.com. In the event of inclement weather, please check www.herbein.com by 5:00p.m. the day prior for an announcement.