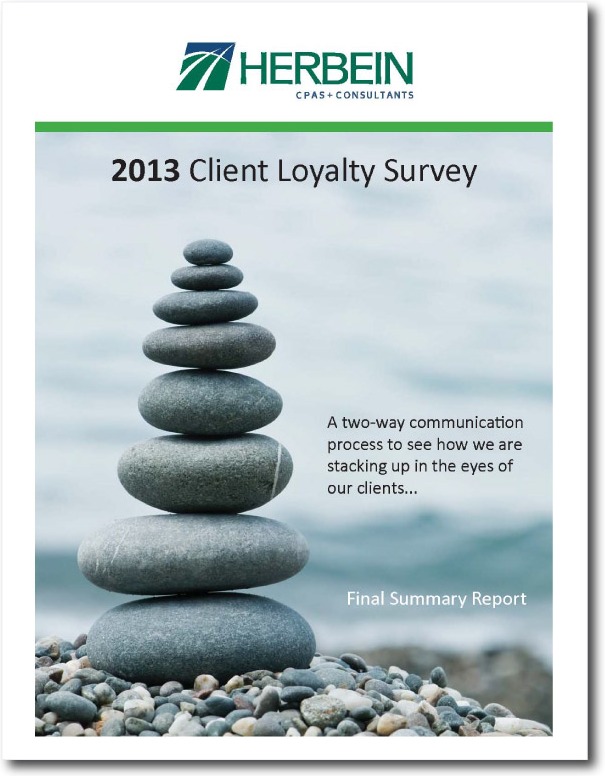 Herbein Proudly Announces 2013 Client Loyalty Survey Results
In 2013, Herbein conducted an extensive Client Loyalty Survey in which we asked clients for honest feedback and recommendations. Our desire was to learn more about our client relationships and use the information to hone our current strengths and address areas of potential improvement. Typical surveys tend towards one-way communication – clients submit their responses which are surely read by the surveyor, but then the process seemingly ends with no action. Herbein recognizes that everyone who fills out our survey is a key stakeholder, and we believe that there is true value in providing feedback which includes findings and plans of action. Our survey is based on an open, transparent format where clients are informed of the responses as well as our plans to address the results.
We also sent the exact survey in 2011, and our final report includes a comparison of the years in order to evaluate the progress made in each key area.
Survey Notes: For multiple choice questions, we provided Totally and Somewhat positive choices and Somewhat and Totally negative choices. This allowed us to polarize the response without having a neutral response. While we take Somewhat Agree as a generally positive response, our objective will be to move these areas towards the Totally Agree category. We have also removed N/A responses to provide more statistically accurate feedback.
In 2011, a total of 176 people took part in the survey. For 2013, that number exactly doubled to 352. In 2011, the feedback we received was overwhelmingly positive which made the consistent increase in totally positive responses even more significant.
Once again, 100% agree that Herbein is a firm they can trust
Agreement that Herbein meets deadlines as promised went from 97.9% to 100%
Agreement that Herbein is reachable and responsive went from 98.6% to 100%
For a complete copy of the 2013 Client Loyalty Survey Results, click here.