Path Ahead Panel: The business landscape in 2021
What does the business landscape look like for 2021?
Thursday, January 21, 2021
Live Webinar


MATERIALS
------------------------
Start the new year by joining Herbein + Company, Inc. for insight into The Path Ahead – our commitment to providing you with up-to-date information, tools and support to help you and your business navigate these turbulent times. As we put 2020 behind us, what does the business landscape look like for 2021?
TOPICS
We'll delve into some of hot topics facing business owners who are still dealing with the effects of CODID-19 including:
The 2021 tax landscape

PPP loans – including the accounting for PPP loans and how it can affect your bank covenants

Tax implications of PPP loans and loan forgiveness

Navigating cash flow issues related to the pandemic

Projecting revenue and expenses for 2021 while managing continued marketplace changes

Protecting retirement nest eggs
The Path Ahead Webinar Series: Herbein is committed to helping our clients adapt to an evolving business environment. Count on us for the insights, guidance, and analysis you need to navigate the next normal.
PRESENTERS
Herbein Regional Marketing Director Beth Bershok will moderate a panel discussion with the following speakers:
Thomas L. Bakaitus, Jr, CPA, MST – Regional Managing Partner & Tax Director

Joseph J. Witkowski, CPA – Herbein Chief Financial Officer

Josh A. Pollet, CPA – Partner in Charge of Firmwide Accounting and Auditing Practice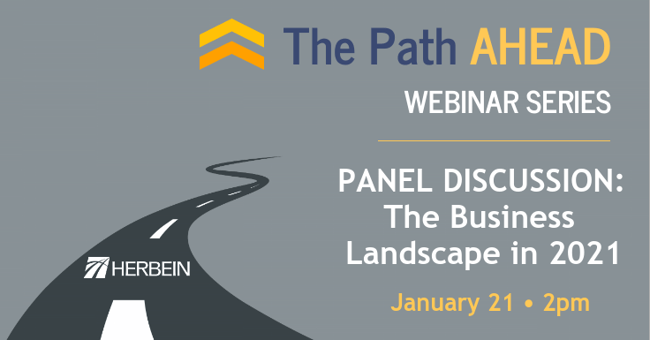 CPE INFORMATION
CPE: 1 Hour of Specialized Knowledge offered for CPAs licensed to practice in PA and NJ
Prerequisites: None
Program Level: Basic
Advance Preparation: None
Delivery Method: Group Internet Based/Webinar
Course registration and, where applicable, attendance requirements: Via herbein.com
Refund policy for courses sold for a fee or cancellation policy: Webinar is complimentary
Complaint resolution policy: Any complaints should be directed to the CPE Team at

cpe@herbein.com

or 610-375-1175