2019 NONPROFIT UPDATE
April 10, 2019
Berkshire Country Club
1637 Bernville Road I Bernville, PA 19601
8:00am - 8:30am Registration & Breakfast
8:30am - 11:00am Update & Q+A
Register now
Join Herbein + Company, Inc. for our 2019 Nonprofit Update covering hot topics affecting your nonprofits. This sessions topics include a fundraising refresher, Accounting Standards Updates(ASU), 990 FAQ's, and industry specific standards.
Topics will include: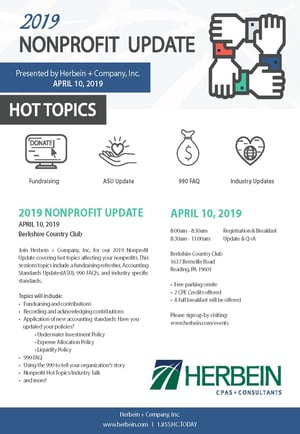 Fundraising and contributions
Recording and acknowledging contributions
Application of new accounting standards: Have you updated your policies?

Underwater Investment Policy
Expense Allocation Policy
Liquidity Policy

990 FAQ
Using the 990 to tell your organization's story
Nonprofit Hot Topics/Industry Talk
and more!
Reserve your spot today!

Questions? Email abklatt@herbein.com.