WEBINAR RECAP: The Consolidated Appropriations Act of 2021: What you need to know
The Consolidated Appropriations Act of 2021: What you need to know
How the new stimulus package affects the Paycheck Protection Program (PPP) and business and individual taxes
January 13, 2021
2:00pm EST

MATERIALS
-------------------------------------------
On December 27, 2020, President Trump signed the Consolidated Appropriations Act of 2021 (the "Act") into law. The Act provides $900 billion in COVID-19-related stimulus and relief to individuals and businesses struggling from the economic challenges of the COVID-19 pandemic.
Join Herbein on Wednesday, Jan. 13 for a webinar on the key individual and business tax provisions included in the Act. The webinar will also outline how the new package affects the Paycheck Protection Program (PPP). Click here to register.
Attendees can expect to learn about the Act's impact on:
Paycheck Protection Program (PPP) – Update on changes to round one - and how to plan for the second
Businesses – Update on payroll tax credits, deductibility of business meals, retention credits, and extenders
Individuals – Round two of economic stimulus payments, deductibility of charitable donations, and extenders
The Path Ahead Webinar Series: Herbein is committed to helping our clients adapt to an evolving business environment. Count on us for the insights, guidance, and analysis you need to navigate the next normal.
Presenters
Stacy A Weller I Senior Manager, Herbein + Company, Inc. I saweller@herbein.com
David E. Peritz I Senior Manager, Herbein + Company, Inc. I deperitz@herbein.com
Greg Farrell I Partner, Herbein + Company, Inc. I gfarrell@herbein.com
HOST: Jack Kolmansberger I Chief Marketing Officer I jmkolmansberger@herbein.com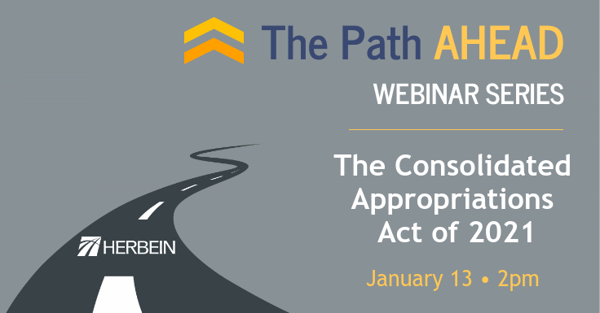 CPE Information
CPE: 1.5 Hour of Tax offered for CPAs licensed to practice in PA and NJ
Prerequisites: None)
Program Level: Basic
Advance Preparation: None
Delivery Method: Group Internet Based/Webinar
Course registration and, where applicable, attendance requirements: Via herbein.com
Refund policy for courses sold for a fee or cancellation policy: Webinar is complimentary
Complaint resolution policy: Any complaints should be directed to the CPE Team at

cpe@herbein.com

or 610-375-1175