WEBINAR: Accounting Standard Updates
Accounting Standard Updates
Key updates on Revenue Recognition and Leasing

April 20, 2021
2 p.m. EST
Register Here

Join Herbein on April 20, 2021 for a webinar on Key Accounting Standard Updates: Leasing and Revenue Recognition.

2020 was a year for the record books – but as we make our way throughout 2021, learn the latest on revenue recognition and leasing standards. How do they impact your business, and what has changed?

Join us as we walk through key updates on both Leasing (ASU) 2016-02, and Revenue Recognition (ASU) 2014-09. Register here.

Leasing Update: A walk-through of Accounting Standard Update (ASU) 2016-02, Leases (Topic 842) which will provide insight into aspects of the new lease standard that are particularly relevant to lessees in a non-public entity. We will review how all leases will now be captured on the balance sheet and recorded through the financial statements, as well as the process to determine if a lease exists and how to record it properly under the new standard.

Revenue Recognition Update: An overview of Accounting Standard Update (ASU) 2014-09, Revenue from Contracts with Customers (Topic 606), which will provide insight into the new principles-based standard, including the 5-step process for revenue recognition. We will review what we saw during implementation, where people struggled the most, what we expect going forward, staying on top of the standard, and how COVID-19 impacted customer payments.
Click here to reserve your spot today.

After attending this webinar, attendees will:
Gain an understanding of the aspects of the new ASC 842 standard
Review ASU 2014-09 and provide insight into the principles-based standard
CPE: 1 Hour of Accounting offered for CPAs licensed to practice in PA and NJ
PRESENTERS
Christopher S. Kunkle I Senior Manager I cskunkle@herbein.com
Cory D. Eisenhofer I Manager I cdeisenhofer@herbein.com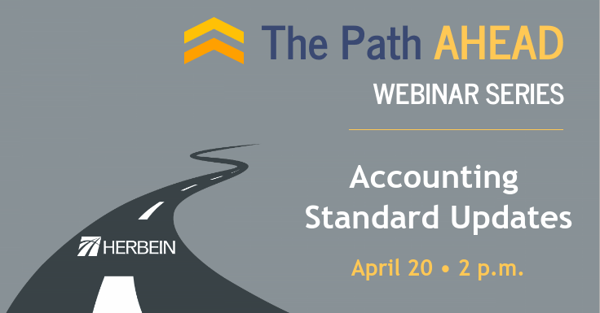 CPE INFORMATION
CPE: 1 Hour of Accounting offered for CPAs licensed to practice in PA and NJ
Prerequisites: None
Program Level: Basic
Advance Preparation: None
Delivery Method: Group Internet Based/Webinar
Course registration and, where applicable, attendance requirements: Via herbein.com
Refund policy for courses sold for a fee or cancellation policy: Webinar is complimentary
Complaint resolution policy: Any complaints should be directed to the CPE Team at

cpe@herbein.com

or 610-375-1175