AN OVERVIEW OF THE TAX REFORM AND HOW IT AFFECTS YOU
On December 22, 2017, the Tax Cuts and Jobs Act (TCJA) was signed into law. This whitepaper will summarize some of the key changes of the tax reform bill and how it may affect you.
This summary will include key updates on the following topics: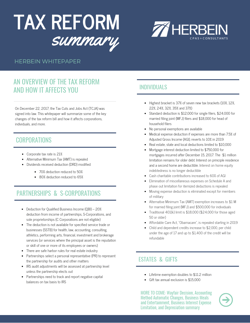 Corporations
Partnerships & S-Corporations
Individuals
Estates & Gifts
Wayfair Decision
Accounting Method Automatic Changes
Business Meals & Entertainment
Business Interest Expense Limitation
Depreciation
To contact Herbein for additional information about the Tax Reform email us today at info@herbein.com.