Special All-Star Edition of the Herbein Conversation
All-Stars Al Oliver and Greg Luzinski Set the Stage for the Evening's Baseball All-Star Game

July 13, 2021 I 1 p.m. EST
Virtual Event: The Herbein Conversation
Register today using this link.
______________________________________________

It's an "All-Star" Herbein Conversation as two of the greatest hitters from Major League Baseball's 1970-80 era share their insights on baseball's yearly special day.
Al 'Scoop' Oliver and Greg 'The Bull' Luzinski - key players in the fierce Phillies-Pirates / Phillies-Expos rivalries - are two of the most renowned hitters in MLB History. These legendary sluggers will share stories from their 11 combined All-Star games, and we'll learn more about Greg's famous homer off Baltimore Orioles ace Jim Palmer in the 1977 Midsummer Classic.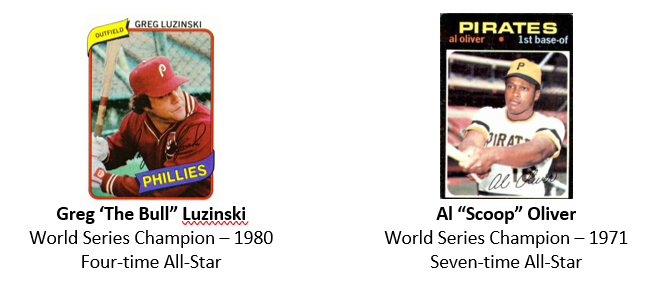 Greg and Al combined for over 30 MLB seasons, each won a World Series title, and both have unique perspectives on the transition to life after baseball.
Al is a motivational speaker known for uplifting stories on overcoming adversity. During his MLB career, Al was a member of the Pirates team that won the 1971 World Series. Known for his consistency at the plate, Al retired with a .303 lifetime average, 2,743 hits, 1,326 RBIs, and 1,189 runs scored. As a member of a historic lineup entirely comprised of minorities, Al's experiences are uniquely inspiring. To this day, he stands up for social justice.
Known for his incredible power at the plate, Greg became famous for 'Bull Blasts' at Veterans Stadium, hitting 307 career homers and knocking in 1,128 RBIs. In 1978, Greg won the Roberto Clemente Award which "best exemplifies the game of baseball, sportsmanship, community involvement and the individual's contribution to his team." A beloved Phillies player, Greg followed in the footsteps of another beloved basher, the Orioles' Boog Powell, by launching Bull's BBQ when Citizens Bank Park opened in 2004. Greg won a World Series title as a member of the 1980 Phillies.
Join us for a Herbein Conversation that is sure to be a "grand slam!" Hosted by Christopher M. Turtell.
Register today using this link.