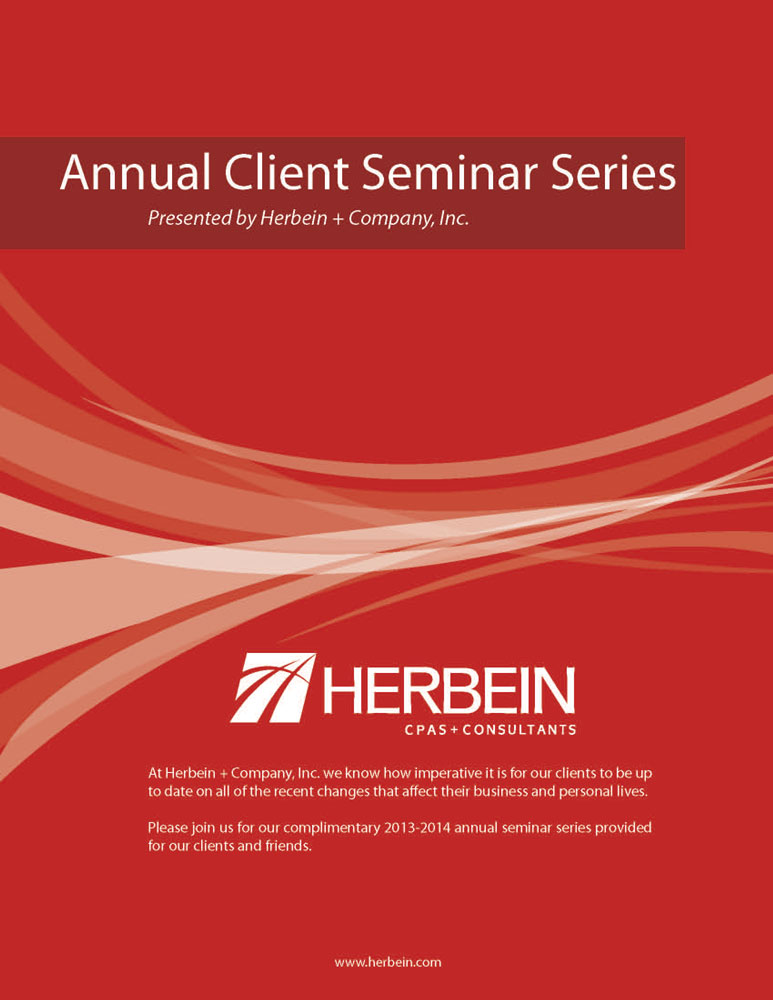 Announcing the 2013-2014 Seminar Series
Herbein Client Seminar Series
At Herbein + Company, Inc. we know how imperative it is for our clients to be up to date on all of the recent changes that affect their business and personal lives. Please join us for our complimentary 2013-2014 annual seminar series provided for our clients and friends.
These seminars are offered free of charge. Seating may be limited and will be accommodated on a first-come basis. Please feel free to include a friend or colleague in your RSVP. Confirmation and a reminder will be emailed to you after we receive your registration.
-----------------------------------------------------
January 16, 2014

Tax Planning for the Uncertainty
Given the ongoing gridlock in the Congress and the federal deficit, we have much uncertainty in the future, so planning becomes even more important. Federal taxes are constantly changing and 2014 will definitely be impacted by several different factors. This seminar will review the various changes upcoming in both personal and corporate taxes and how to plan for 2014 and beyond.
Additional information and registration for the January 16th seminar.
-----------------------------------------------------
April 30, 2014

Get the Right Price for Your Business
Every owner eventually exits from their business – some by choice, and some by chance. Whether you are selling to an outside party, an employee, or transitioning to your children, you need to meet your financial needs for retirement. Don't wait until you want to exit to start planning for this big event. This seminar will cover information to help you plan for this event whether close or far. We will provide a free exit planning assessment worksheet.
Additional information and registration for the April 30th seminar.
-----------------------------------------------------
May 7, 2014
Business Valuations as a Strategic Tool
Hope is not a strategy… knowing the true value of your business is key to nearly every decision a business owner considers. Business valuations can be used for various different purposes, but are especially useful with regard to merger and acquisition transactions and other forms of corporate planning. This seminar will review the business valuation process and how valuations can add value to the decision making process for business owners.
Additional information and registration for the May 7th seminar.
-----------------------------------------------------
For any additional questions regarding our seminar series - please feel free to contact Sherri Ochs at 610.378.1175, www.herbein.com, or [email protected]
In the event of inclement weather, please check www.herbein.com by 5:00p.m. the day prior for an announcement.