Herbein Ranks 6th in the Greater Reading Top Business Awards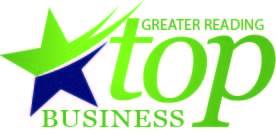 READING, PA – Herbein + Company, Inc., a Reading, PA-based certified public accounting firm, ranked sixth on the list of companies recognized in the Greater Reading Top Businesses Award Program.
Herbein + Company, Inc. was one of 50 companies honored at the Greater Reading Chamber of Commerce and Industry's (GRCCI) annual awards dinner, held at the Santander Performing Arts Center on May 8, 2014. The program, sponsored by the Chamber and KPMG, recognizes the area's top-performing for-profit businesses and their contributions to the success of the entire community.
The ranking method combines two measures of revenue growth - dollar and percentage increases - for the three years, with greater weight placed on the most recent year. For a full listing of the fast-growing companies, visit www.greaterreadingchamber.org.
"The Top Business Program recognizes and acknowledges both the success and diversity of the Greater Reading business community," notes Ellen Horan, President & CEO of the Greater Reading Chamber of Commerce & Industry. "These businesses are the backbone of creativity and production in our Greater Reading community. It is clearly not only a great place to live and work – but also to establish a successful business."
Criteria for participation and recognition in the Greater Reading Top Businesses Program include that companies be independent, public or privately held; have revenues of at least $1 million in each of the three most recent fiscal years; and be headquartered, or maintain a regional headquarters, in the Greater Reading area.
Herbein joins seventeen firm clients on the list. COO Michael J. Rowley remarks, "For Herbein to make the list is a real honor. To serve so many of the leading businesses in our region is a true privilege. We are grateful for the opportunity to contribute to the ongoing success of our clients, and we remain committed to a strong, local business community."