Who Would Have Thought This Happens at a CPA Firm?
Stephanie – 2013 Tax Intern
From Emmaus, PA – Kutztown University Golden Bears
Completed her first half marathon this February
To start off, I think this is going to be my favorite blog post of the internship. Never in my life did I think working at a CPA firm during tax season could be so much fun. In my mind, I envisioned an office full of stressed out people with papers everywhere. Herbein is not like that at all and they try to make this stressful time of year as enjoyable as possible.
My first experience was the ice cream social.... I think it was our second week as interns and Stacy came walking by our cubicles and said, "Let's go upstairs for ice cream." I can remember thinking that she was kidding, but minutes later I was standing upstairs in the conference room where some of the partners were scooping ice cream for everyone! It was so good to get a little break from working and to be around other people throughout the firm. Everyone was able to relax for a few minutes and each delicious ice cream from one of the clients!
My absolute favorite thing so far that was totally unexpected; massages! We got an email about getting a time slot for massages, but I didn't really think as an intern I should have signed up. When the day came, Stacy came and got me and we went upstairs and got one of the best chair massages I have ever had in my whole life. It was so relaxing and such a bonus for me that day!
Another thing I definitely did not expect from a CPA firm was lunch time yoga and fitness classes. I saw a few emails about signing up for them, but I kind of ignored them. One day when I went upstairs to make my lunch, I saw some (sweaty) people in the conference room jumping rope and doing crunches. It looked like a lot of fun and a good way to relieve some stress on the lunch break. I ended up doing a couple of the yoga classes and it was a lot of fun! It was so cool that they provided something like that to help get our minds off of work for an hour.
There are also little 'parties' every once in a while. For example, the other day we had a March Madness lunch break in the conference with the games on the projector, pizza, snacks, and cake. It was a nice break from the craziness right now and it was a lot of fun! Everyone was able to just forget about work for a half hour, eat some food, and enjoy basketball!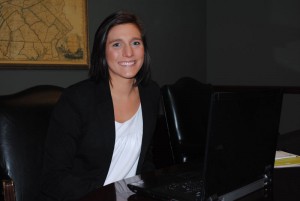 Stephanie Atkins, Herbein Tax Intern – Kutztown University