How to Survive Tax Season - Tips for Future Interns
Stephanie – 2013 Tax Intern
From Emmaus, PA – Kutztown University Golden Bears
Completed her first half marathon this February
If I could have gotten one piece of advice before I started my internship with Herbein, it would be this.. ASK QUESTIONS!!!!!
It makes life so much easier. The first few returns I tried to do on my own without asking any questions, and to be honest I had absolutely no idea what I was doing. I was afraid that I was going to be "bugging" everyone by asking for help, but once I sucked it up and did it, everything got so much easier. No one at the firm expects you to know exactly what you are doing on day one, or day two, or day ten.
It's a learning experience for everyone and no one is going to shut you down when you ask them anything. There have been so many times when I think that my questions are stupid, but it turns out that Joann or Victoria was wondering the same thing. It is so much better to ask questions and do it right, than to submit something wrong to one of the partners. I've also found that by asking questions, I've gotten to know some of the people at the firm so much better. Now that I'm comfortable with asking questions, it doesn't even phase me to stop someone and ask for some help. It makes everyone's lives easier.
Another piece of advice I would like to give to future interns is be confident. You were chosen for the position for a reason and now it's your time to shine and prove to everyone that you were the right choice.
Don't feel like you're "just an intern" because at Herbein no one treats you that way. The best thing you can do is talk to people, makes friends, ask them questions (like I said before) and be outgoing. It took me a few weeks to really break out of my shell, but once I did my experience became that much more enjoyable. Even though there is a lot of work getting done, I look forward to coming to work and it's the people here at Herbein that make it that way.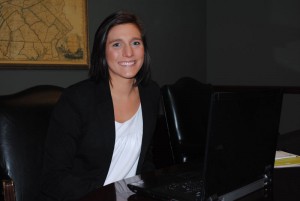 Stephanie Atkins, Herbein Tax Intern – Kutztown University