Some Things Can't Be Taught in the Classroom
Megan – Herbein Audit Intern
From Exeter, PA – Kutztown University Golden Bears
Already a Herbein 'Net Asset' Volleyball Team Star
Going through college, especially with accounting majors, you are always told how important internships are. I can tell you that this is the best advice you can take!
Yes, you learn many things in the classroom you will apply to your career, but nothing is a bigger asset than getting hands on experience. You will not regret participating in an internship program, so if you are an accounting major I would not hesitate to look for one!
I think that the best advantage to my Herbein internship in the audit department is the interaction I get to have with the clients. For most college students this is obviously something that is very intimidating. Every client is different and you have to learn to adapt to each one in a different way. It was nice for some of the audits I was on because the other staff I was working with gave me a heads up on how some clients preferred things such as communication methods, etc. As for some other clients, they were new or new to the others I was working with so I had no idea what to expect. The best advice I can give is to take a deep breath and just be yourself (and of course as professional as you can be). I don't believe a class could teach you the skills you need to interact with clients; experience and practice will do this.
Of course the most obvious perk to an internship is to see what a day in the life of an actual accountant is like. This will help you feel more at ease at the choice of your career path, or maybe you will come to realize that it's not what you expected. I personally would rather find out earlier than later if I was going to enjoy the career that I just worked four or more years to get a degree in. You can be taught about the career and industry itself, but I don't see how anything could be better than getting hand on experience in the field you choose. After these past few months in my internship, I can say I am very happy with the choice I have made and I am looking forward to graduating and beginning into my career.
Now wouldn't you like to say the same about the career choice you are making? Getting an internship could help you answer this question, so get out there and explore all the internship opportunities offered!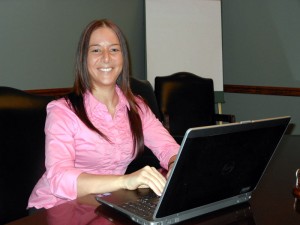 Megan Schmehl, Herbein Audit Intern – Kutztown University