See you later!
We have made it to the last week of the brutal tax season! It feels like I am about to leave a place where I have been working for many years; yet, I have only worked a little over 2 months. Looking back on my internship experience, I believe that I was lucky enough to be part of Herbein+Company's team. A lot of hours and a lot of commitment were necessary to make this a successful internship for myself and my fellow interns and there is no doubt that it was worth it.
I remember it took me a long time to finish the first tax return I had to prepare; now, I start preparing a tax return and some minutes afterwards I am onto the next one. This goes back to the wonderful team of tax preparers and reviewers who have provided me with knowledgeable insight on how to be better at what I do through constructive criticism and motivation. I would not have been able to do well here without all the others that have aided me. I have learned a lot apart from experience in preparing tax returns; the interpersonal skills and the professional work ethics that I have gained and experienced through working at Herbein+Company are absolutely priceless for my future.
At the moment I have mixed feelings of looking forward to the free time I will have after the internship is over, and wanting to stay here longer to use my time efficiently and beneficially, especially that interning became a regular part of my day/week. This is going to be my last blog for this internship, but I will be back during the summer for another internship in the Audit Department. I can hardly wait for that start! I am not exactly leaving and, therefore, I will see you later!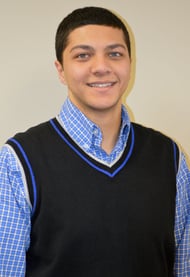 Fady Wilson
Albright College
2015 Herbein Intern – Reading