Today marks the last official day of my internship here at Herbein, and I have to say that I enjoyed every minute of it! I had the opportunity to work with so many amazing people, from whom I learned so much.
Before now, to me the Real World was just a Matchbox 20 song that I really enjoyed. I would certainly consider the time I have spent in the military as real world, but a few weeks ago I got to thinking, what now? I've graduated college, I'm almost done my internship, it's time to actually think about the real world. And it certainly is not a time to wish the real world would just stop hassling me.
I got to thinking about my plans and what the future would hold. So when I had my review meeting and was offered the opportunity to stay here at Herbein as a full time staff accountant I couldn't, have been happier! I am very excited to continue working for the firm and to have the opportunity to continue to learn, as I have already learned so much.
So what does the future hold? First, I will officially be a full time staff accountant on Monday! Second, it's time to start studying for the CPA exam! Beyond that, I guess I will just have to see what happens.
Welcome Victoria!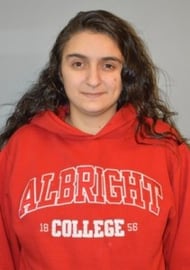 Victoria Piscitelli
Albright College
2014 Audit Intern