From Gilbertsville, PA – Pennsylvania State University- Berks Campus
Hello everyone! My name is Travis Stewart, and I am an intern in the tax department at Herbein + Company, Inc.
I live in Gilbertsville, PA and am currently a junior studying accounting at Penn State- Berks. I intend to graduate from Penn State in May 2015, but I plan to continue taking courses the following year to obtain my MBA and enough credits to meet the 150 credit hours for the CPA exam.
In my free time, I enjoy working on cars, going to the gym, and weight lifting. Cars have always been my passion, from performance to appearance. My father once told me "A man's most expensive hobby starts with $0.99" (referring to hot wheels). This couldn't be more accurate! If only performance parts were that inexpensive.
While interested in the public accounting field, I started to look for internships so I could gain "real-world" experience. After interviewing with Dave Stonesifer and Josh Pollet as a sophomore, I was hooked on obtaining an internship from Herbein. In addition to their great reputation, Herbein's friendly, fun, and engaging atmosphere and culture attracted me. As a sophomore, I did not have enough of an accounting background to obtain the position and tackle "busy season." However, I stayed persistent. In the following year, I found myself being interviewed again, and thankfully was offered a position. When I received the offer, I couldn't say yes fast enough! I was so excited that I had the opportunity to intern for a great company and help them through tax season.
While I have only been here for a few weeks, I know that I made the right choice in coming to Herbein. Everyone is so friendly and helpful, and this internship also has helped me gain insight into real world taxes, not just out of the textbook. I can't wait to see what the future holds!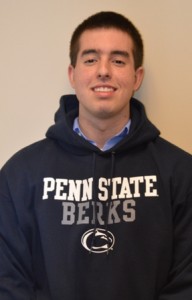 Travis Stewart
Penn State University - Berks Campus
2014 Tax Intern