From Bethlehem, PA – Kutztown University
Hi my name is Marc Blasko, born and raised in Bethlehem. I currently am a senior at Kutztown University and will be graduating in December because I want to get closer to the 150 credit goal. I am so happy to be on board as a Tax Intern this year at Herbein and will do everything it takes to get the most out of this wonderful opportunity.
As soon as I walked out of my interview with Dave Stonesifer [Herbein's recruiting partner] the only thing on my mind was whether or not I would get the internship because from the impression I got, this was the place I wanted to be.
In the minimal free time that I have with this internship and classes, I am either at the gym or watching my favorite sports teams. I am not very sure I will be liked after posting on here who my favorite teams are but I will go ahead and do it anyways because I enjoy every second of the things people always have to say about me being a Yankees and a Cowboys fan.
As far as music I love listening to country and also enjoy singing karaoke, even though I am horrible; things like that simply do not bother me. Two fun facts about me is that I have never eaten a chip in my entire life and also that I tend to be very loud. Outside of work and the classroom, I just love to enjoy my life and have a good time because we only have one shot to live it up!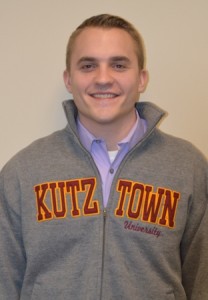 Marc Blasko
Kutztown University
2014 Tax Intern