HI everyone! My name is Lauren Swavely and I am a tax intern at Herbein + Company, Inc.
I was born and raised in Reading, PA. I graduated from Berks Catholic High School and currently attend Albright College. I am a junior accounting major and a member of the Dearden Honor Society. I will graduate in May 2017 with 150 credit hours for the CPA requirement. I cannot believe how quickly college is flying by!
During my sophomore year in college, I attended Albright's Accounting Night and met with several firms, including Herbein + Company, Inc. When I first met with Dave [Stonesifer], I knew there was something special about this firm, but I just did not know it yet. After some time, Dave interviewed me in the Reading Office and it went great. I was looking for a smaller, regional firm, and after my interview I knew that Herbein was a perfect match. When Dave offered me the internship, I was beyond excited. Everyone was extremely welcoming and I have felt like a part of the Herbein team before my internship even began. I know that the knowledge and experience I gain from this internship will stay with me throughout my career.
In my free time, I love to stay active and workout. When it is warm in the summer, I enjoy running or playing sports outside. I was a competitive gymnast for 13 years and played field hockey in high school. Now that I am no longer a competitive athlete, I try to stay as active as I can.
I also enjoy artistic activities, such as cross stitching and scrapbooking. I am obsessed with Sudoku puzzles and can work on them for several hours at a time! When I feel like lying around the house, I love to watch TV shows on Netflix and movies with my family. There is no better combination than a great movie and some cookies n' cream ice cream.
I am ecstatic about starting this tax internship at Herbein + Company, Inc. Although it has only just begun, I have already learned so much and am excited to see what the future holds!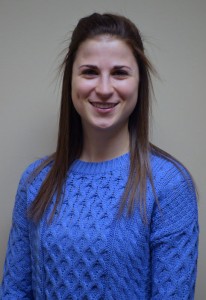 Lauren Swavely
2016 Tax Intern