Meet Julia - 2014 Herbein Intern
Hi! My name is Julia Sottosanti and I am one of two summer interns who just started at Herbein + Company in the Reading office.
I grew up in Exeter Township, not too far from the Reading office, and attend Villanova University's School of Business. I am a rising junior studying Accounting, Finance and Business Analytics. All three interest me for different reasons so the opportunity to expand my knowledge of Accounting and gain real-life experience away from the classroom is exciting. It can be difficult as a college student to gauge what sort of career could be a good fit for you in the future. An internship is an incredible opportunity to get a taste of a possible career path while expanding your knowledge of the subject more than is possible in a classroom setting.
I have been looking forward to my internship since my interview with Dave [Stonesifer]. He discussed the work that the company does as well as the atmosphere of the firm and he could not have been more accurate about the positive atmosphere in the office. Herbein combines the benefits of a larger accounting firm because of its diverse, sophisticated practice with the benefits found at a smaller firm such as more personal attention and an enjoyable work environment. Everyone I have encountered at Herbein has been welcoming, knowledgeable and willing to help with any questions I may have. From training, to my first audit client, to my mentor at our mentor lunch, everyone has made the transition easy.
Some other things you should know about me include my love not only of Villanova as a college, but also of their basketball team. I am a crazy 'Nova basketball fan and love to watch games with my dad who also attended Villanova. I also enjoy playing basketball and keep myself busy playing on Villanova's club team and various intramural teams. Aside from sports, I enjoy traveling and was lucky enough to study abroad in Italy last summer and will be spending next semester in Australia where I hope to learn to surf. Another of my hobbies is going to concerts. I enjoy all types of music, but the best concert I have ever been to is Bruce Springsteen!
While I have only officially been on the job for a few days, I am excited to be interning at Herbein and for what the rest of the summer holds!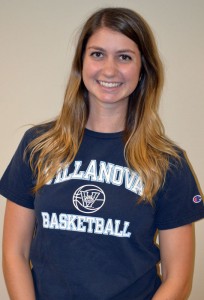 Julia Sottosanti
2014 Summer Intern – Reading Office
Villanova University