Meet Joann – Herbein Tax Intern
From New York City – Albright College Lions
Halfway to her goal of speaking eight languages
Hi everyone! My name is Joann Pun and I am currently a tax intern at Herbein + Company. I am originally from New York City, but I am presently living in Reading, PA as I am studying at Albright College. I'm a semi-senior (I'm staying an extra semester) majoring in Accounting and Spanish!
Let's see – I like a bunch of things and I'm willing to try almost anything (ALMOST anything!). I love art, clothes, languages, shopping, truly understanding things (can't memorize things since my memory is dreadful), music, traveling, and the list continues. At the moment, one of my goals is to speak eight languages – and I'm over half way there; I currently have English, Spanish, Mandarin, Fujianese (a dialect), and German. I'm nowhere fluent with most of them, but I am trying!
I actually just went to Ecuador (please go if you have the chance). Not only were people super friendly, but I was also able to do a lot of things for the first time, such as hiking (I used to be terrified of getting mud on my shoes), swimming (first time in the Pacific Ocean and it included snorkeling! – my professor gleefully took a photo of me clinging on for dear life on a lifesaver), and trying guinea pig (it doesn't taste like chicken). I cannot wait to go back, but Germany and Spain are next on my list, so it will have to wait!
My number one goal right now, however, is to take (and pass the first time around) my CPA exam! I've already prepared a study group with a few of my friends who also graduated or will graduate from Albright College – we are all a bit nervous!
Enough about my background – let's talk about why I picked Herbein! I first heard of Herbein from a friend of mine, who was a previous intern here. She had several internship opportunities, but she specifically told me that Herbein was the best. Excited, I applied. It was perfect because it was close by and it gave me the opportunity to explore tax accounting, something I really wanted to do (to see if the actual work is similar to the classroom – it kind of isn't!) My interviewers were amazing and sincere and I felt so at ease.
To sum up my experience so far – I really, really (really) like it here. I actually surprised myself when I realized that (on the second day of adjusting), since I never thought I would like tax more than auditing. Needless to say, I am rethinking that possibility!
More to come as I work through this internship – so far loving every minute of it!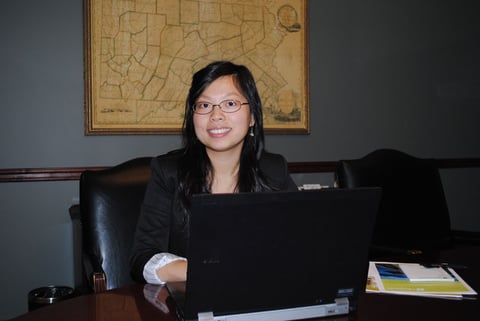 Joann Pun, Herbein Tax Intern – Albright College