Jacinda – 2015 Herbein Intern
Hi everyone! My name is Jacinda Ruzicka and I am currently an intern in the tax department at Herbein + Company, Inc.
I am from Summit Hill, PA and am currently a junior studying accounting at Albright College in Reading. I am involved in many campus activities including the Dearden Honor Society, Enactus, Panhellenic Council, Phi Mu Fraternity, and Lion Diplomats. I plan to graduate from Albright in May of 2016 with the 150 credit hours in order to sit for the CPA exam.
In my spare time I enjoy learning new things and challenging myself. I like to have fun, despite what you might think about most students aspiring to become accountants. I enjoy art, shopping, sports, traveling, food, music, going to the gym, and basically doing anything outdoors. I am also an extreme animal lover. I actually traveled to Hawaii to study whale behavioral patterns and help provide more information about them. I am always passionate about what I do whether it is hobbies, school, or work.
When choosing where I would like to intern, Herbein was at the top of my list. Before my interview, I had researched the company and made a list of questions to ask because I wanted to learn more. After meeting with the partner in charge of recruiting, Dave Stonesifer, I knew this was the place for me. He explained how at Herbein everyone does a lot of hard work, but are rewarded with fun activities as well. The office is very close to school which allows me to take classes while interning which was one of my major concerns. When I got the call from Dave with the tax intern position, I was beyond excited.
I am so thrilled to have this internship opportunity and to be joining the Herbein team!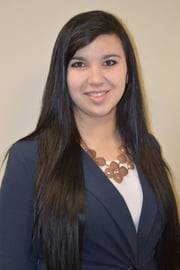 Jacinda Ruzicka
Albright College
2015 Herbein Intern - Reading