Meet Fady Wilson, an international intern
Hello! I am Fady Wilson, a junior student at Albright College and my major is accounting. I am interning at Herbein+Company for the 2015 Tax Season, which will be a tough but enjoyable experience, undoubtedly.
I am from Alexandria, Egypt (Land of the Pharaohs) and I graduated high school with an International Graduate Certificate of Secondary Education from the University of Cambridge. I chose to pursue higher education at a country other than Egypt in order to expand my life experience and knowledge. Therefore, I applied to multiple colleges in the United States and eventually chose Albright College as my destination due to its small size.
I had applied for an internship at Herbein+Company for the 2014 Tax Season, but I did not receive the position. This made me work harder to become a better candidate to have a better chance of getting an internship. I interviewed again one year later with Dave Stonesifer (recruiting Partner at Herbein+Company) and I received the offer. I was extremely proud and happy with this because I have always wanted to get a hands-on experience in the accounting field.
Apart from my internship, I am a Resident Assistant in Krause Hall in Albright College, and the International Students' Association Representative on the Student Government Association. I am currently certified as an Accounting and Economics tutor as well. I like to keep myself busy and find chances to meet new people and gain vicariously through their experiences as well.
I am exhilarated to be part of Herbein+Company, and participate with a great team of professional accountants and interns. Everyone is welcoming and helpful, which reminds me of what a wonderful opportunity I have and great decision I made to intern in this successful firm.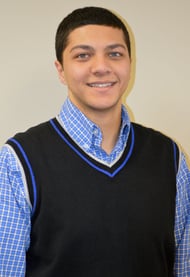 Fady Wilson
Albright College
2015 Herbein Intern - Reading