Hello everyone! My name is Emely Tremols and I am one of the 2016 Tax Interns who just began their journey at Herbein + Company in the Reading Office.
I grew up in Reading and attended all Reading schools, thus, you can say that I am a Reading native. I am currently attending Albright College majoring solely in Accounting and will graduate in May 2017 with 150 credit hours to be able to sit for my CPA exam. Albright has provided me with countless opportunities for growth, such as my recent experience conducting an independent research study with my accounting professor as part of Albright's ACRE (Albright Creative Research Experience) program. I am also a member of Enactus business club, Phi Theta Kappa Honor Society, and Who's Who Among Students In American Universities & Colleges National Honor Society.
My responsibilities extend beyond school and work because I am the Youth Director at my church making me responsible for creating programs and sermons as well as delegating programs to others that are part of the Youth Committee. With my job of being a youth leader, I am also in charge of developing activities and fundraisers to help the community. An interesting fact about me is that in my church, I am a "renowned" actress which is why I am always chosen as one of the main characters (or as the protagonist) for plays and skits. It's something that I enjoy, because I love dressing up in costumes and I love being "dramatic" and stepping into another character's shoes and interpreting another's emotions through my body language and vocals.
In my free time, I indulge in arts and crafts. My favorite are DIY's (Do It Yourself projects), as well as altering clothing with my sewing machine. I am also obsessed with nature and its beautiful vistas (especially during autumn). This is the reason why whenever I have a chance, I'm always up for going on nature walks and hikes! There is something about being in the outdoors that makes me feel at peace and drains all my stress away.
After hearing about Herbein in a class presentation Christine Moy (former Tax and Audit intern) did, I completely fell in love with the firm. It became my number one choice as a firm I would like to work for. Therefore, I immediately began researching the firm and pursuing this amazing internship. My interview with David Stonesifer as well as the firm activities I've been able to attend, had confirmed my esteemed views about Herbein.
I feel blessed and honored to be here and can honestly say that Herbein remains number one on my list! This is a place that possesses all qualities of a larger accounting firm with its refined and varied practices, yet the environment is that of a smaller firm with its helpful and friendly ambiance. Everyone has been more than welcome to be of assistance in answering questions and helping me get through the internship as smoothly as possible. To date, this internship experience has be enriching and I am sure that it will continue enlightening me as the season progresses.
Thank you Herbein for allowing me to be part of your awesome team and giving me a chance at fulfilling my ultimate dream!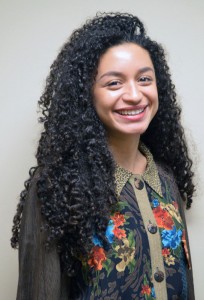 Emely Tremols
2016 Tax Intern