Meet Christine - 2014 Herbein Intern
Hi! My name is Christine Moy, and I am currently an accounting and auditing intern at Herbein + Company, Inc.
I was born and raised in Berks County, specifically Wyomissing, and am an Accounting, Economics, and Finance major at Albright College in Reading. Albright has provided me with countless opportunities to involve myself in the community, and I am an active member in campus societies such as Lion Diplomats, the college's alumni relations association, the International Students' Organization, and Enactus, a business club with goals of community service and outreach. Upon graduation from Albright in 2016, I hope to be working in the field and obtain my CPA.
Last summer, I interned at PPL EnergyPlus in Allentown. As the marketing intern of the retail electric group, I was assigned projects focusing primarily on our commercial and industrial consumers. By developing proposed strategic platforms for E+ that reflected the brand positioning, tonality, and key objectives of the company, we established our social media presence through research and competitor analyses, identifying best practices, and investigating enhancement and functionality opportunities of each outlet. PPL's internship program is beyond exceptional. Between executive networking events, baseball games, and go kart racing, my coworkers quickly became my best friends.
After interning at PPL last summer, I was eager to seek out more internships (I like to keep busy). Herbein + Company's reputation as a highly respectable firm made it a top choice to gain invaluable experience. The firm's fast paced environment and friendly personnel reassures me that I made the right choice when choosing internships!
Outside of interning and schoolwork, I do additionally have a part-time job at Isaac's. Not only can I name over 50+ birds, I work with the absolute greatest people. I can always count on my lovely coworkers to fill the room with massive smiles and laughter, it is ridiculous and I love it!
In my free time, however, I am a relatively normal human being, despite the fact I aspire to be an accountant. I enjoy playing volleyball and watching Breaking Bad, which I may be slightly addicted to. Heisenberg is my hero. I also love listening to music. You could most likely find me at my desk jamming out to anything ranging from Stevie Wonder to Kendrick Lamar to Mumford & Sons, all whilst being productive of course.
On the whole, I am so excited to be joining Team Herbein for the summer and doing what I am genuinely passionate about!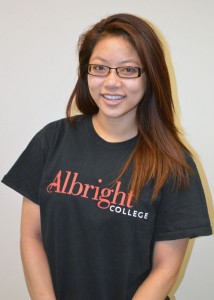 Christine Moy
2014 Summer Intern - Reading Office
Albright College