Is It March Already?
Megan – Herbein Audit Intern
From Exeter, PA – Kutztown University Golden Bears
Already a Herbein 'Net Asset' Volleyball Team Star
Well I cannot believe how fast the time is flying by week to week. It seems like just yesterday it was January and I started my internship here at Herbein + Company. I have been exposed to so many different things that I don't know where to begin.
So far, I have been on for-profit audits, government audits, and even a dairy consulting job. Not a day goes by where I don't learn a million different things, and I am loving every minute of it. If someone would have told me two months ago that I would have gained all of this knowledge and experience already, I would not have believed them.
My first few weeks at Herbein were a huge adjustment because I didn't know much about what I was getting into. Work paper prep was overwhelming because your brain experiences a bit of an overload. After my first few audits, I realized that everything was making more and more sense.
On almost every audit I was able to audit the cash section and perform walk throughs and journal entry reviews on the for-profit clients. On the government side I have been able to work on pensions, expenses, and revenues. Each audit is very similar in some ways and very different in other ways. I have learned that you just have to take what you learn from one audit and apply it to the next one and so forth.
I really enjoy the audit experience because every week it's something new. Usually you are at a new client and it keeps everything very interesting. I also get to meet the clients and interact with them throughout the audit. In addition to changing audit clients, for most new clients is a new audit team; so I get to work with different audit teams which also offers a new experience for different audits.
Everyone at Herbein is so helpful and willing to work with you when you are not familiar with something. I think that is the most major thing I have learned as of now; not be afraid to ask questions.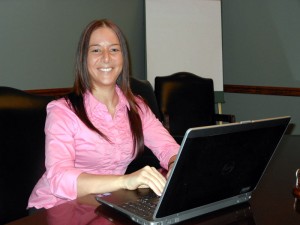 Megan Schmehl, Herbein Audit Intern – Kutztown University