Interviewing for a job or internship is undoubtedly a nerve-wracking process; however, with the right attitude and an appropriate amount of preparation, the opportunity to gain valuable experience within a workplace can easily be yours.
When preparing for an interview, make sure to use all your available resources! Friends, professors, and the career development office can aid you in your preparation for an interview if you take full advantage of them.
Begin with practicing a mock interview with a friend. Be prepared for any obvious questions the firm will ask, such as the classic strengths and weaknesses, "why you want to work for the firm", and "why should we hire you" questions (Google will provide an entire list of common interview questions).
The following are a few helpful ideas to ensure that you have a successful interview:
Know the Firm
Brush up on your stalking skills, and by that, I mean intensely "creep" on the company. Be knowledgeable of the basics – history, firm size, specialties in services, etc. Additionally, you should be aware of the firm's recent happenings, which can be found in their newsroom page of their website. For instance, if there was a press release regarding the company's involvement in the community, or a nationally recognized award for customer service was won, read all about it – this can be a conversation starter.
From the information you gather, assemble your own list of questions to ask the interviewer. Ask about the work environment, or how they outperform their top competitors, and so forth. Asking plenty of questions will confirm your effort to learn about the company.
In the Perspective of the Firm
The firm is not only interested in the nature of your work ethic – dedication, commitment, and initiative – but is also equally interested in your character. It is important to know who you are as a person, and what your values are. Be sure to convey that you are a team player, and can handle different conflicts effectively with your advanced problem solving skills. The firm wants to hire a candidate who is capable of working in groups in a diverse setting.
Additionally, as an accounting major, let it be known why you chose this career direction. At this point, you should be genuinely passionate about accounting, so demonstrate your sincere interest in the field! Not everyone can say they enjoy accounting.
Presentation is Key
As always, dress to impress! Feel comfortable in what you are wearing, and feel confident in your abilities to succeed. Be positive, smile, and most importantly, be yourself. Show your personality and the interviewer will remember you for your character.
Best of luck!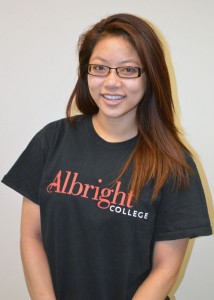 Christine Moy
2014 Summer Intern – Reading Office
Albright College