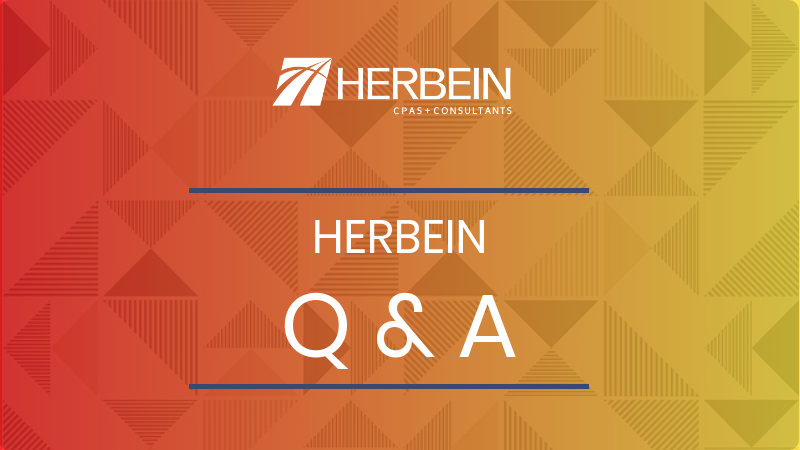 Name: Sydney Robb
Herbein Office: Reading, PA
Internship: Audit
Tell us a little about yourself! I am a current junior at Albright College studying accounting with a music minor. This is my second busy season and third internship with Herbein! I plan on graduating and receiving my 150 credit hours by May 2020. When I am not at college, I love to travel, volunteer, and train my dog. By the time I graduate, I would love to have my dog become a certified therapy dog!
How does this compare with other internships you have had? The audit internship was different than the tax and audit summer internships, since I was busier and working more hours. I had to manage my time differently and adjust to working while taking a full-time class load. During my tax internship, I attended class on my days off, but during the audit internship, you are excepted to work and complete tasks just like a staff-level auditor. The experience was phenomenal, and I was able to learn more about the profession.
What was your favorite project and why? I never had a favorite audit/review over the other, but I enjoyed the traveling! Some travel jobs were closer than others, but I enjoyed being able to carpool with the team and getting to know everyone better (because all accountants have lives outside of work too).
What has been your most valuable learning experience? Being able to apply what I have learned thus far in my academic career into the audit internship was unbelievable! If you do not remember journal entry and account principles (debit, credits, assets, liabilities, etc.) from Financial Accounting, you will become so familiar with them by the end of this internship! I was able to gain a better understanding of the principles by applying them to actual audits/reviews, which is not taught in a textbook!
How would you describe Herbein's culture with your exposure and experience? Herbein's culture is like a snowflake: not one accountant is alike! Once you talk to someone in the office, you will immediately discover that the person working aside of them is much different!
What was your favorite busy season activity? My favorite activity would have to be the Herbein Masters (mini golf tournament). Having fun breaks during busy season is a great time to unwind and spend time with everyone in the office! Busy season can be stressful, but it does not have to be when you have a supporting team by your side.
What was one thing you learned on the job during your internship that was not taught in the classroom? I did not take an audit class before this internship, so I would say that this internship was a huge learning experience for me altogether! I would say that I am more familiar with adjusting journal entries and accounts payable than I ever was before!
What is the best thing about public accounting? I gained more experience by working with a variety of clients!
Would you recommend this internship to others? Of course! All internships are great experiences to learn more about yourself and the profession!
What advice would you give to someone new considering to intern at Herbein? Herbein's internships are a start to your future career. Their internships allow you to gain knowledge, skills, and experiences that you would not find elsewhere!
What surprised you most about your internship experience? All position levels were willing to help the interns, which is what surprised me the most. I have had all position levels assign me work and take the time to explain it to me. If I had a question, I knew I could ask anybody!
What's next? I have one more year at Albright College until graduation then I move into the "real world." I hope to travel before graduation while volunteering and working at my part-time waitressing job.
Advice during the internship: Do not feel afraid to ask questions! Questions are how you learn and everybody at Herbein wants you to succeed! Take advantage of the internship opportunity and do not feel that any question is not good enough. For all you know, the intern next to you might have the same question!