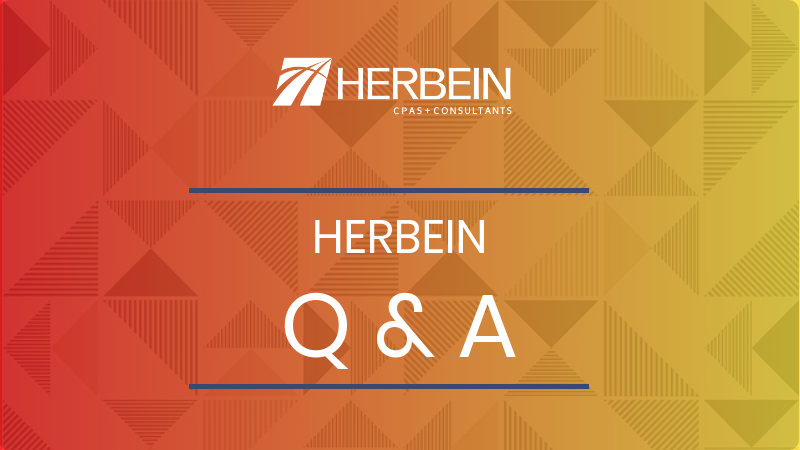 Name: Stephanie Webb
Herbein Office: Spring House, PA
Internship: Tax
Tell us a little about yourself! I am a sophomore at Gwynedd Mercy University and I like to cook.
How does this compare with other internships you have had? This internship has taught me how to do a tax return from start to finish and has allowed me to work on my own, but there is help when I need it.
What has been your most valuable learning experience? My most valuable learning experience has been learning to truly understand personal returns. Business returns were much easier to learn than a personal return, but I now feel more confident in them throughout my experiences I have had with them along the way.
How would you describe Herbein's culture with your exposure and experience? Herbein's environment is very friendly and like a big family.
What was your favorite busy season activity? My favorite activity was signing off on the final diagnostic and declaring the return ready for review.
What was one thing you learned on the job during your internship that was not taught in the classroom? I learned about what a K-1 is and the reason that people receive them. Before this internship my taxes class had not yet taught me about K-1's, so it was interesting to learn about them.
What is the best thing about public accounting? The best thing about public accounting is the gratitude from clients such as when they send food to the office to show their appreciation. It is a compliment to our service as well as an appreciated treat.
Would you recommend this internship to others? Yes. Herbein has exposed me to what I expect to experience throughout my career. If I move on to a different firm without a similar atmosphere, I will know it is not what I want thanks to my time at Herbein.
What advice would you give to someone new considering to intern at Herbein? My advice is, if they offer you a position, take it! Herbein is a great place to work and you will not be disappointed.
What surprised you most about your internship experience? What surprised me the most about my experience is the level of the responsibility given to the interns. In a previous internship, I found the same family atmosphere, but the complexity of the work was not challenging at all. Herbein has allowed me to grow as a future accountant and help to shape what I will look for in future jobs.
What's next? What is next for me is uncertain. I would love to intern with Herbein again, but as of right now there are no concrete plans.
My personal highlight: A highlight of the experience is the connections you make with your coworkers and how they have treated us as adults.