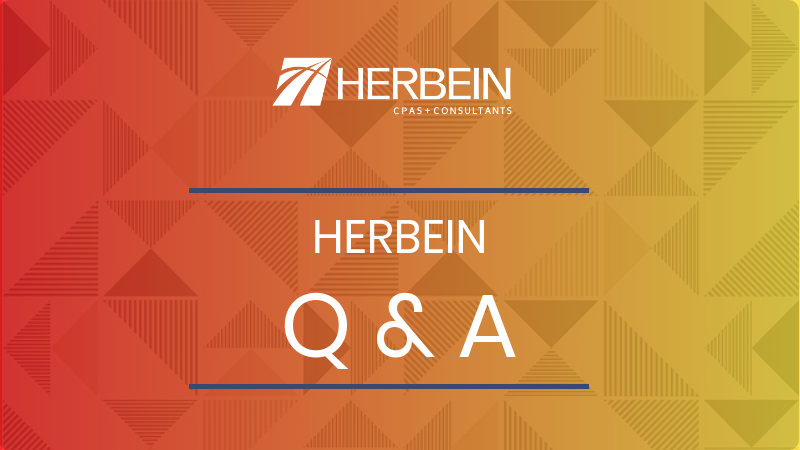 Name: Marlee Hune
Herbein Office: Greensburg, PA
Internship: Tax
Tell us a little about yourself! Currently attending Seton Hill University, graduating in May! I enjoy running, biking, and traveling.

How does this compare with other internships you have had? I felt more independent with this internship as compared to others I've had in the past. I did go and ask any important questions I came across, but for the most part I was working independently.
What was your favorite project and why? I don't think that I had a favorite project. I liked the variety in the projects that I was working on because of the differences in every client.
What has been your most valuable learning experience? I enjoyed seeing how everything came together. From scanning, to preparing, and even assembling. I was able to complete some of the returns start to finish which was an interesting process.
How would you describe Herbein's culture with your exposure and experience? I think that everybody in the office is very welcoming. The culture seems to be more easy going and about everyone working together.
What was your favorite busy season activity? I enjoyed the snack boxes as well as the ice cream social.
What was one thing you learned on the job during your internship that was not taught in the classroom? I could name several things that I learned on the job that was not taught in the classroom just about tax returns themselves.
What is the best thing about public accounting? There is a wide variety of clients, so each project is different.
What advice would you give to someone new considering to intern at Herbein? I would tell them to go for it; ask as many questions as possible and don't be afraid of mistakes. At the end of the day, it is a very valuable learning experience and making mistakes and asking questions is all part of the process.
What surprised you most about your internship experience? I think what surprised me most was how much I was able to do and learn here. I was not just scanning and doing things around the office, I felt very involved.
What's next? I have one more year at Albright College until graduation then I move into the "real world." I hope to travel before graduation while volunteering and working at my part-time waitressing job.
Advice during the internship: I will be graduating in about a month and I will continue my learning by working at an accounting firm in Pittsburgh while studying for the CPA exam.