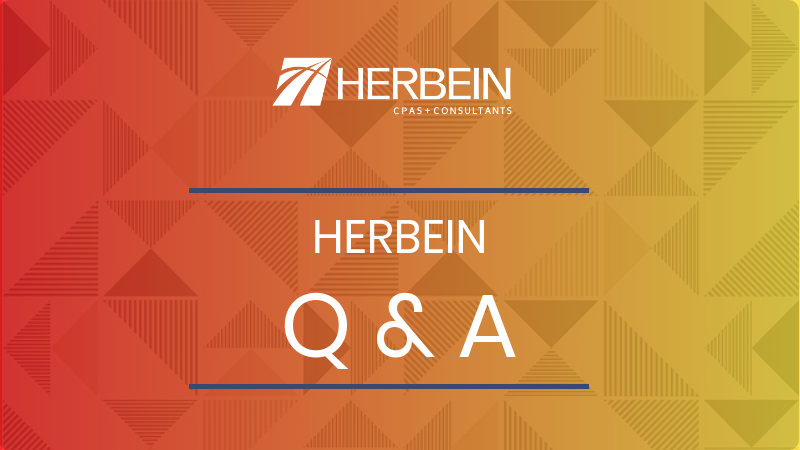 Name: Christopher Popovici
Herbein Office: Reading, PA
Internship: Small Business
Tell us a little about yourself! I am a Senior at Penn State Berks graduating in May 2019. I love to play guitar with any free time I may stumble upon.
How does this compare with other internships you have had? This was my first public accounting internship and by far one that I have learned about accounting in. This internship helped me to further solidify my choice to pursue a career in public accounting after graduation.
What was your favorite project and why? My favorite projects to work with were clients that didn't have complete bookkeeping and required more thought to get the books at a proper starting point. It was fulfilling when I was able to figure out errors in the recording of transactions and finish up the tax return with properly record books.
What has been your most valuable learning experience? My most valuable learning experience has been whenever tax returns would come back with review comments. Usually it came back with items that I wouldn't have thought about before. Through the review comments I was able to adjust my though process in order to make the appropriate interpretations when completing a tax return
How would you describe Herbein's culture with your exposure and experience? I would describe Herbein's culture with one word, welcoming. I never had anyone turn down any of my questions and could see how important my learning was to everyone in the department. It is an atmosphere where I could build my skills as a future CPA.
What was your favorite busy season activity? I really enjoyed the march madness balloon tournament. It was a great time to have some fun and relieve stress during a very busy time in the office.
What was one thing you learned on the job during your internship that was not taught in the classroom? One thing I wasn't taught in schools that I learned here was the work flow within a public accounting firm. Getting to see how a public accounting firm operates on a daily basis has really helped in understanding the expectations of a staff accountant.
What is the best thing about public accounting? The best thing about public accounting is the variety in the work. I had a new client to work on almost every single day. It kept work exciting and helped me gain priceless exposure that will remain with me for the rest of my career.
Would you recommend this internship to others? Yes, I would recommend this internship to anyone that wants to gain valuable experience within a great public accounting firm.
What advice would you give to someone new considering to intern at Herbein? Some advice I would give is to be ready for anything. Interning at Herbein will push your knowledge. Get ready for one of the most valuable experiences of the beginning of your career.
What surprised you most about your internship experience? I was surprised how quickly work would pile up, but it is definitely a great feeling every time you send a return out the door.
What's next? I plan to finish off my senior year at Penn State strong and look to begin studying for the CPA exam over the summer with a goal to get licensed by next summer.