"How to Conquer Tax Season"
Take initiative and set goals
Establish objectives for yourself – have a clear understanding of what you would like to accomplish for the week or a specific task.
Once you create a goal that is clear and exact, ask yourself if your goal is realistic. It should be challenging to a certain degree, but still attainable. Setting a time limit for yourself to achieve a goal is also helpful; it will push you to achieve in a timely manner and keep you on track to set new goals.
Ask questions
Strive for quality. As an "inexperienced" worker, accuracy takes precedence over time. Be sure to triple check your work thoroughly to ensure correctness. If you do not fully understand your assignment, ask your in-charge for clarifications on directions. This will help you become an efficient and effective worker, and let your superiors know that you truly care about the work you are doing.
Stay organized
Checklists keep you on point with expectations. Construct a to-do list and tape it to your monitor or planner. You can even use a smartphone application to help you keep track of deadlines. Categorize and differentiate between levels of importance and urgency. Ask yourself: what needs to be done now, what are the due dates for long term projects, and what are the clients' objectives. By doing so, it can help you determine how to allocate your time efficiently while working on a multitude of assigned tasks.
Keep a consistent sleep schedule
Adjusting to the 8:00 AM to 5:00 PM grind or busy season hours can be challenging, especially if you are not a morning person. Caffeine is my best friend. Productive workers need to be awake, focused, and ready to go. Thankfully, there is always a nearby Starbucks!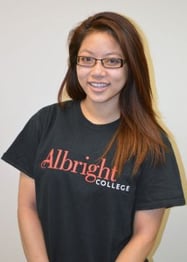 Christine Moy
2015 Tax Intern – Reading Office
Albright College