How I Plan To Survive Busy Season
Stephanie Atkins
Having the opportunity to experience two busy seasons before graduating college is not something that many accounting majors get the chance to do. The experience, knowledge, and skills a student can develop throughout an internship during tax season are aspects that aren't provided in the classroom and can really help prepare a student for the real world. However, when trying to fit classes, homework, studying, the internship, and personal time into your schedule, it can get a little bit overwhelming. Last year when this was all new to me, I don't think I was 100% prepared for the busy couple of months I had in store for me and I made myself a promise to manage my time better this year. A few things that I am doing during this tax season to enjoy this experience more are eating breakfast, writing things into a planner, and making time for things I enjoy.
It may sound like something very simple, but I make sure to eat a healthy breakfast every morning before coming into the office. Last year I would grab a granola bar or a banana and eat it on the go, but now I'm making it a point to give myself an extra 20-30 minutes in the morning to sit down at the kitchen table, drink a cup of coffee, and eat something nutritious before starting my day. I don't know why I started doing this, but is has been helping me wake up and get ready for the day. Taking the time to eat breakfast also gives me some time to myself to relax and not think about work or school.
Another habit I've gotten in to is writing things down in a planner. I have always written homework assignments and due dates down, but I never actually made myself a schedule to be sure I got everything done. This is something new for me and I've only been doing it for a few weeks, but I'm finding that I always have time to finish what I need to without stressing. When I get a new homework assignment or find out about a test, I get my planner out and find time when I don't have anything to do and schedule myself a window to get it done. I don't only do this with school matters, but work and personal things too. My class schedule gets put into my planner first, because that never changes, and then I fit my work schedule around that. Once that time is taken up, a lot of the time goes to school work, studying, and sleep. However, I always give myself enough time during nights and weekends to enjoy some time to myself to keep my sane.
Enjoying personal time is so important to survive busy season and it can be so easy to forget to do this. For me, I enjoy running, going to the gym, spending time with friends, and watching Glee. If I'm stressed out and need to get away from a little, I love to go for a run because no one can bother me and it's feels great to get some fresh air. I also make sure to get to the gym a few nights a week to keep me healthy and relieve some stress. On the weekends, I always try to take one night to go out and have fun with friends. Finally, Glee just started a new season this past Tuesday and I will be making sure to be home from 8-9pm to watch it every Tuesday night. (Yes, I am a Gleek! J )
Everyone has a different way of surviving their busy season, but I'm still a rookie so I'm testing some things out to figure out what works best for me. Even though busy season can be overwhelming and challenging, I think there are always ways to get through it and make it a great experience.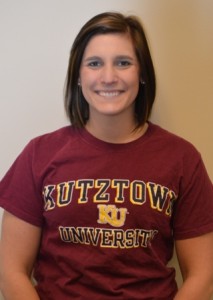 Stephanie Atkins
Kutztown University
2014 Tax Intern